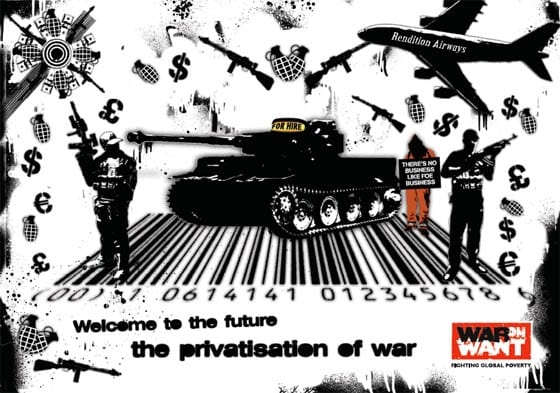 November 3, 2013. A media watchdog report released the names of 22 TV news analysts who are secretly working for defense suppliers. We say secretly because one major issue the group points out is that the majority of networks never disclosed to their viewers that their expert guest was paid by the defense industry to push more American wars. Here are the corporations, networks and the 22 peddlers of death.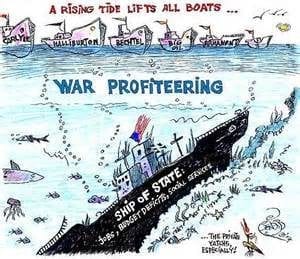 'These individuals and organizations have strong ties to defense contractors and other defense- and foreign policy-focused firms with a vested interest in the Syria debate,' the report from the Public Accountability Initiative informs readers, 'but they were presented to their audiences with a veneer of expertise and independence, as former military officials, retired diplomats, and independent think tanks.'
The poster child
In giving Americans a brief but blatant example of the kind of corporate war propaganda the report lists, the introduction goes straight to the worst offender of them all – Stephen Hadley. Hadley is a familiar face to anyone who watches network or cable news shows. He's former President George W. Bush's national security adviser. That credential helped give him credibility as he bounced from one news show to the next over the past few months desperately insisting that the US should attack Syria.
But what the cable and TV news shows don't tell their viewers most of the time is what the report did, 'He serves as a director of Raytheon, the weapons manufacturer that makes the Tomahawk cruise missiles that were widely cited as a weapon of choice in a potential strike against Syria.'
Detailing his financial interest and the fortune he personally stands to gain if the US attacks Syria or Iran, the report says, 'Hadley earns $128,500 in annual cash compensation from the company and chairs its public affairs committee. He also owns 11,477 shares of Raytheon stock, which traded at all-time highs during the Syria debate ($77.65 on August 23, making Hadley's share's worth $891,189). Despite this financial stake, Hadley was presented to his audience as an experienced, independent national security expert.'
The 22 public war profiteers
Out of the 22 below individuals, only one publicly opposed a US-launched war against Syria. Robert Scales, retired Major General and CEO of a defense contractor, went to the trouble of actually writing to the Public Accountability Initiative to insure he was given credit with being the only one who opposed US military intervention during the months of August and September. That was the time frame the media watchdog used to monitor and investigate the featured 'independent experts' presented by various major corporate-owned media outlets.
Below, are the 22 not-so-independent media analysts caught pushing for a US attack on Syria while rarely, if ever, disclosing their financial ties to military contractors (from the Public Accountability Initiative and LittleSis.org):
Madeleine K Albright – former Sec. of State; political consultant
Jeremy Bash – Founder, Beacon Global Strategies
R Nicholas Burns – The Cohen Group
Gen. James Cartwright – former Vice Chairman, Joint Chiefs of Staff
Wesley K Clark – Retired 4-star General, former Presidential candidate
William S Cohen – former Defense Secretary
Roger Cressey – former Deputy of Counterterrorism
Charles A Duelfer – former Chief US weapons inspector
Adam Ereli – Vice Chair, Mercury Public Affairs LLC
Michele Flournoy – Boston Consulting Group
Stephen J Hadley – Raytheon Board, former National Security Advisor
Michael Hayden – former CIA Director
Colin Kahl – former Deputy Asst. Secretary of Defense
Brian Katulis – Center for American Progress
John M Keane – SCP Partners
James A "Spider" Marks – Retired Major General
Patrick Murphy – former Congressman from PA
Chuck Nash – President, Emerging Technologies Int.
John D Negroponte – former Dir. of National Intelligence
Robert H Scales – CEO Colgen, retired Major General
Frances Townsend – MacAndrews and Forbes Holdings Inc.
Gen. Anthony Zinni – Retired Marine General
Media outlets caught pushing war for profit
Not stopping there, the report also tracked various major news outlets to see how often they informed their viewers that their above 22 guests had personal investments in defense corporations or were outright employed by them. Out of the 111 appearances made by the above 22 individuals during the monitored time, only 13 times did the news shows make an attempt to disclose their analyst's defense industry connections.
The report calls out the 4 largest news groups, including their subsidiary outlets, and shows Americans just how honest they were with their viewers:
News outlet – Expert appearances – Times industry ties disclosed
NBC (MSNBC, CNBC, NBC) – 16 – 5
CNN – 37 – 7
Bloomberg News – 5 – 0
Fox News – 23 – 0
The 7 Sisters of the Apocalypse
Okay, that's our title and description not the report's. But the document does expose the seven 'think tanks' featured repeatedly across America's corporate news outlets as independent experts. What the media outlets failed to inform viewers as their guests pushed for war on Syria is that these organizations are funded by defense corporations.
In just one month, from August 7 to September 6, these seven think tanks were featured 144 times in major news outlets. While they tirelessly pushed for additional wars in Syria and even Iran, the news networks and think tank representatives failed to mention that each of the seven allegedly independent groups is funded with millions of defense contractor dollars. The seven think tanks are:
The Brookings Institute
Center for Strategic and International Studies
The Institute for the Study of War
Council on Foreign Relations
American Enterprise Institute
Atlantic Council
Center for American Progress
The report takes special interest in the top three think tanks because they were the three that appeared across America's media landscape the most over that one month period. The group writes of each:
'Experts with The Brookings Institution were cited in 31 articles on Syria in our dataset, more than any other think tank. Brookings is an influential think tank that is presented in the media as an independent authority, yet it receives millions in funding from the defense industry, including $1 – 2.5 million from Booz Allen Hamilton and $50,000 – $100,000 from Boeing, General Dynamics, Lockheed Martin, Northrop Grumman, and Palantir Technologies. Brookings Executive Education's Advisory Council Chair, Ronald Sanders, is a Vice President and Senior Fellow at Booz Allen Hamilton.'
'The Center for Strategic and International Studies was cited in 30 articles on Syria. CSIS has ample individual connections to the defense industry through its advisors and trustees, including CSIS Senior Advisor Margaret Sidney Ashworth, Corporate Vice President for Government Relations at Northrop Grumman, and CSIS Advisor Thomas Culligan, Senior Vice President at Raytheon. CSIS President and CEO John Hamre is a director for defense contractor SAIC.'
'Analysts representing The Institute for the Study of War were cited in 22 articles on Syria in our dataset. One such article by former ISW Senior Research Analyst Elizabeth O'Bagy was cited by Secretary John Kerry and Senator John McCain during congressional hearings in their effort to justify intervention. ISW's Corporate Council represents a who's who of the defense industry and includes Raytheon, SAIC, Palantir, General Dynamics, CACI, Northrop Grumman, DynCorp, and L-3 Communications.'
To read the full report, visit the Public Accountability Initiative
Recent Whiteout Press articles:
NY Stop and Frisk Ruling blocked, Judge removed
SHADE the Motion Picture exposes Metallic Chemtrails
Anti-NSA Rally causes Left-Right fight
America on verge of massive Debt Default – the numbers