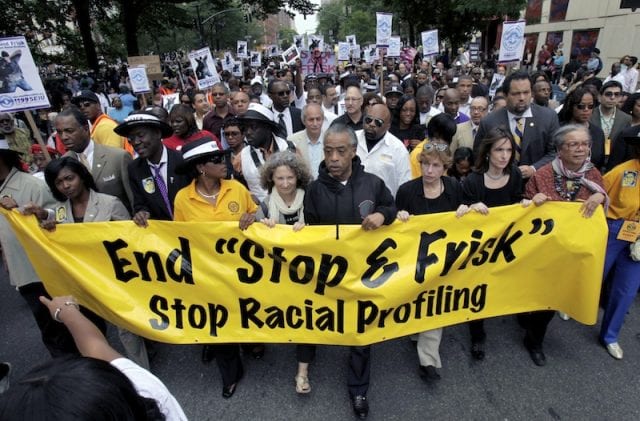 November 1, 2013. New York. In a stunning ruling yesterday, a federal Appeals court stayed the decision of federal Judge Shira Scheindlin which halted New York's controversial 'Stop and Frisk' police practice. Even more shocking, the Appeals court rebuked the pro-Constitution Judge and removed her from the trial.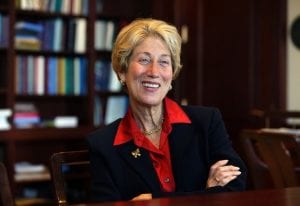 Judge Shira Scheindlin was removed from the NY 'Stop and Frisk' trial yesterday.
In disciplining Judge Shira Scheindlin and removing her from New York's controversial stop-and-frisk trial yesterday, the three-judge US Court of Appeals said she "ran afoul" of the judicial code of conduct. Specifically, the Appeals Court accused Judge Scheindlin of having a pre-determined bias in the case. They also rebuked her for speaking to the press regarding her ruling that basically stopped NY's police practice of stopping and frisking citizens for no other reason than because they match a certain race, sex and age profile.
Bloomberg and police happy
Lawyers for the city didn't wait to celebrate the Appeals Court decision to throw out Judge Scheindlin's ruling against Mayor Bloomberg's controversial stop and frisk practice. "We could not be more pleased with the Court's findings," Reuters quotes city attorney Michael Cardozo reacting to yesterday's decision. He also said Judge Scheindlin's original August ruling was, "unjustified and deeply problematic." Cardozo added that the lawsuit, "will now receive a fresh and independent look both by the appeals court and then, if necessary, by a different trial court judge.
The report also suggests that as far back as 2007, Judge Scheindlin was upsetting government officials with her personal involvement in another stop-and-frisk case brought before her court. She was quoted at the time telling victims, "If you got proof of inappropriate racial profiling in a good constitutional case, why don't you bring a lawsuit? What I am trying to say, I'm sure I'm going to get in trouble for saying it, for $65 you can bring that lawsuit." She also apparently tipped the victims off that if they marked the future suit 'related' to their current case, it would be brought before her court again and not some other judge.
The account goes on to quote former New York Police Commissioner Howard Safir reacting to the appeals court ruling. "That's great news," he said, "Stop-and-frisk is a legal tactic, not a policy. What police are doing are stopping people based on victims' descriptions."
A report this morning from the NY Daily News quoted current NY Police Commissioner Raymond Kelly celebrating the ruling as well, "This is indeed an important decision for all New Yorkers and for all the men and women of the NYPD who work day in and day out to keep this city safe." Kelly then reportedly took a shot at the pro-Constitution judge saying, "I have always been…concerned about the partiality of Judge Scheindlin."
Judge Scheindlin's defense
In its rebuke of Judge Shira Scheindlin, the three-judge Appeals Court pointed to three specific media reports in which she admittedly spoke to reporters during the preparation of their stories. But Judge Scheindlin responded, insisting she did absolutely nothing wrong.
"The interviews…were conducted under the express condition that I would not comment on the Floyd case," the NY Daily News account quotes Scheindlin responding, "I did not. Some of the reporters used quotes from written opinions in Floyd that gave the appearance that I had commented on the case. However, a careful reading of each interview will reveal that no such comments were made."
New Yorkers react
There's no shortage of New Yorkers with a strong opinion of yesterday's Appellate Court ruling staying Judge Scheindlin's stop-and-frisk decision. Mayor Bloomberg, the police department and the Republican candidate for Mayor all support stop-and-frisk, as well as the halting of Judge Scheindlin's original ruling that all but ended the practice.
"Bravo," GOP Mayoral candidate Joe Lhota said after hearing the news, "I have stood with Mayor Bloomberg and Commissioner Kelly in support of these proactive policies that have saved countless lives. The court has vindicated our positions."
His Democratic opponent and the frontrunner to replace Mayor Bloomberg had the opposite opinion. "What Judge Scheindlin did was correct," Democrat Bill de Blasio told reporters from the campaign trail as he participated in a Brooklyn Halloween parade, "We need to get to work at reforming stop-and-frisk and bringing police and communities together."
ACLU vows to fight
The New York office of the ACLU released a statement immediately following the Appeals Court ruling yesterday. In it, they announced their intention to fight the Appellate Court's ruling and will ask that the three-judge panel refer the case to the full appeals court. The statement also celebrated the fact that the ruling that removed Judge Scheindlin from the case hadn't overturned her decision that stop-and-frisk is un-Constitutional. It only stayed her mandated reforms until, assumedly, the case can be reheard by a different federal judge.
'The New York Civil Liberties Union this afternoon promised to fight a federal appeals court's decision postponing the remedy proceedings in New York City's stop-and-frisk abuse case,' yesterday's statement read, 'The decision, issued by the Second Circuit Court of Appeals, did not overturn the landmark ruling that the NYPD's abuse of stop-and-frisk is unconstitutional.'
NYCLU Executive Director Donna Lieberman affirmed the organization's intention to continue fighting to end the city's stop-and-frisk tactic. "The NYCLU is appealing today's decision," she announced, "There is overwhelming evidence that the stop-and-frisk regime is unconstitutional and out of control – just ask any black or brown New Yorker. We expect the next mayoral administration to make reforming stop-and-frisk a top priority, and we are confident New York City will soon see a day when all New Yorkers' basic rights are protected and respected."
While the Appellate Court's ruling yesterday stopped Judge Scheindlin's reforms and mandates regarding stop-and-frisk, it didn't address the Constitutionality of the issue or the city's legal appeal of the original ruling against them. In March of next year, the same three-judge Appellate Court panel will hear arguments in the city's legal appeal to Scheindlin's ruling on stop-and-frisk itself.
Recent Whiteout Press articles:
SHADE the Motion Picture exposes Metallic Chemtrails
Anti-NSA Rally causes Left-Right fight
America on verge of massive Debt Default – the numbers
Secret NSA Spy Network is messed up like Obamacare's