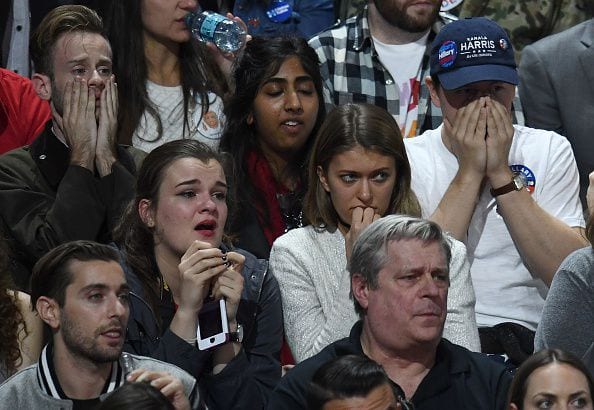 October 18, 2013. Washington. With 24 hours until the US federal government began defaulting on debt payments, Congress quickly voted to restore funding and raise the nation's debt limit again. Contrary to the President's promise, the law is filled with billions in earmarks and pork and even a fortune in free money for one of the richest families in government.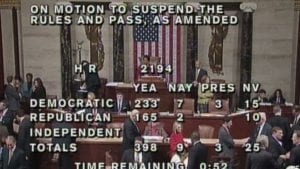 The final vote to end the shutdown and raise the debt limit was closer than most expected. Image courtesy of CSPAN.
While all 366 Congressional Democrats voted in lock step to restore and increase the government's spending, 162 Republicans voted to keep the government shut down and the nation's massive 17 trillion dollar debt where it's at. As the GOP establishment capitulated to Democrats and the President, two-thirds of House Republicans and almost half of Senate Republicans stood firm and voted 'No'.
Roll Call – end shutdown and increase debt limit
Below are the lists of House and Senate Republicans who voted against the pork-filled law Wednesday that ended the shutdown and raised the nation's spending limit. 18 Senate Republicans voted 'No' on ending the shutdown and raising the debt limit (from the Washington Post):
Jeff Sessions (R-AL)
Richard Shelby (R-AL)
Marco Rubio (R-FL)
Charles Grassley (R-IA)
Mike Crapo (R-ID)
Jim Risch (R-ID)
Pat Roberts (R-KS)
Rand Paul (R-KY)
David Vitter (R-LA)
Dean Heller (R-NV)
Tom Coburn (R-OK)
Pat Toomey (R-PA)
Tim Scott (R-SC)
Ted Cruz (R-TX)
John Cornyn (R-TX)
Mike Lee (R-UT)
Ron Johnson (R-WI)
Mike Enzi (R-WY)
While the above list represents roughly 40% of all Senate Republicans, almost two-thirds of House Republicans voted against the law. Fortunately for the President and his fellow Democrats, enough GOP House members followed the party's leaders and voted to end the shutdown and increase the national debt. 144 House Republicans voted 'No' on ending the shutdown and raising the debt limit (from ABC News):
ALABAMA: Aderholt, Brooks, Roby, Rogers
ALASKA:
ARIZONA: Franks, Gosar, Salmon, Schweikert
ARKANSAS:
CALIFORNIA: Campbell, Denham, Hunter, LaMalfa, McClintock, Rohrabacher, Royce
COLORADO: Lamborn
CONNECTICUT:
DELAWARE:
FLORIDA: DeSantis, Mica, Miller, Nugent, Posey, Radel, Rooney, Ross, Southerland, Yoho
GEORGIA: Broun, Collins, Gingrey, Graves, Kingston, Price, Austin, Westmoreland, Woodall
HAWAII:
IDAHO: Labrador
ILLINOIS: Hultgren
INDIANA: Bucshon, Messer, Rokita, Stutzman, Walorski
IOWA: King
KANSAS: Huelskamp, Pompeo, Yoder
KENTUCKY: Barr, Massie
LOUISIANA: Cassidy, Fleming, Scalise
MAINE:
MARYLAND: Harris
MASSACHUSETTS:
MICHIGAN: Amash, Bentivolio, Huizenga, Miller, Walberg
MINNESOTA: Bachmann
MISSISSIPPI: Nunnelee, Palazzo
MISSOURI: Graves, Hartzler, Long, Luetkemeyer, Smith, Wagner
MONTANA:
NEBRASKA:
NEVADA: Amodei
NEW HAMPSHIRE:
NEW JERSEY: Garrett
NEW MEXICO: Pearce
NEW YORK: Collins, Reed
NORTH CAROLINA: Ellmers, Foxx, Holding, Hudson, Jones, Meadows
NORTH DAKOTA:
OHIO: Chabot, Gibbs, Johnson, Jordan, Latta, Renacci, Turner, Wenstrup
OKLAHOMA: Bridenstine, Lankford, Lucas, Mullin
OREGON: Walden
PENNSYLVANIA: Marino, Perry, Pitts, Rothfus
RHODE ISLAND:
SOUTH CAROLINA: Duncan, Gowdy, Mulvaney, Rice, Sanford, Wilson
SOUTH DAKOTA: Noem
TENNESSEE: Black, Blackburn, DesJarlais, Duncan, Fincher, Fleischmann, Roe
TEXAS: Barton, Brady, Burgess, Carter, Conaway, Culberson, Farenthold, Flores, Gohmert, Granger, Hall, Hensarling, Johnson, Sam, Marchant, McCaul, Neugebauer, Olson, Poe, Sessions, Smith, Stockman, Thornberry, Weber, Williams
UTAH: Bishop, Chaffetz, Stewart
VERMONT:
VIRGINIA: Forbes, Goodlatte, Griffith, Hurt
WASHINGTON:
WEST VIRGINIA:
WISCONSIN: Duffy, Petri, Ryan, Sensenbrenner
WYOMING: Lummis
Again, in the US Senate, the vote to end the shutdown and increase the nation's national debt was 81-18. In the US House, the vote was 285-144. The law funds the federal government until January 15 and increases the nation's debt limit until mid-February.
Recent Whiteout Press articles:
Whiteout Press yearly Fundraiser, support Indy Media
AT&T, LinkedIn, Google, Verizon spying and censoring
Who really discovered America?
What's Obama doing with America's nuclear warheads?