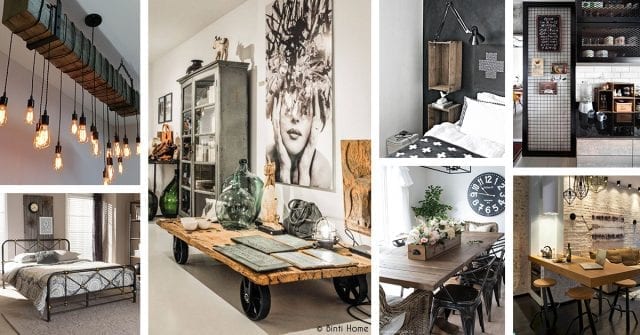 Industrial motifs continue to trend in the world of interior design. Today, industrial design is much more modern and streamlined, with a few key concepts in mind. Think warehouse vibes, raw finishes, exposed beams and brick, and open spaces. One of the first things you'll want to do is gather some inspiration. Head over to Pinterest and search for "industrial design ideas," and you'll have plenty of inspiration to choose from. Gather a few images that speak to you, and use them as a springboard in your own design efforts. With that in mind, here's how you can turn your space into an industrial loft-meets-warehouse haven:
Use Industrial Accents
Industrial accents help bring a space to life. For instance, Edison bulbs are a staple in the industrial look. Vintage photographs, distressed leather, antique rugs (avoid abstract rugs; instead, opt for something like a distressed oriental rug), vintage pillows and throw blankets, steampunk lamps, and more. Retailers like Antique Farmhouse, Habitat for Humanity Restore, and Restoration Hardware are all great places to score industrial finds. And of course, don't forget to shop locally.
Think About Flooring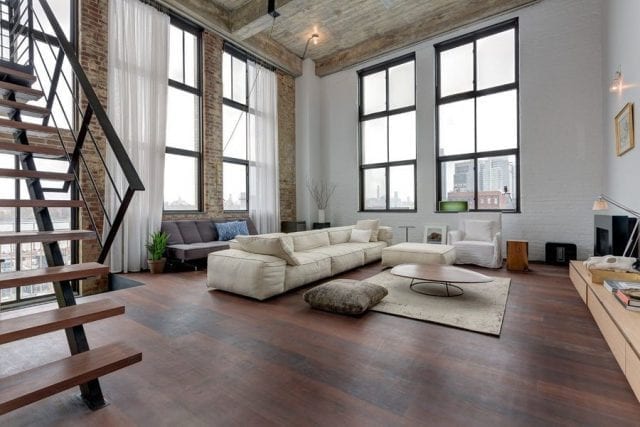 Your flooring is the foundation of your industrial space. Distressed, wide-plank wood flooring helps create a rustic, effortless appearance. You can achieve this look with reclaimed wood or antique wood. If you don't want to distress or stain your flooring, you can still achieve a similar industrial vibe by opting for natural flooring using wood like hickory or white oak. And if you want to go the extra mile, consider concrete floors. Concrete flooring is typically found in warehouses, and if you're lucky enough to already have it in your space, give it clean polish and you're good to go.  
Use a Neutral Palette
"If you take a look at many of the industrial design inspiration images, you'll notice that the majority of them have clean, neutral palettes comprised of browns, tans, and greys," says Teaberry.net. "They create an inviting feeling and don't overwhelm the eyes. If you'd like, you can use pops of color to accent your space."
Using a neutral palette allows you to stay in line with the industrial aesthetic without compromising your own personal style and tastes. There are online palette makers you can use to help you keep track of the colors you want to stick with throughout your space. 
Mix Up Your Elements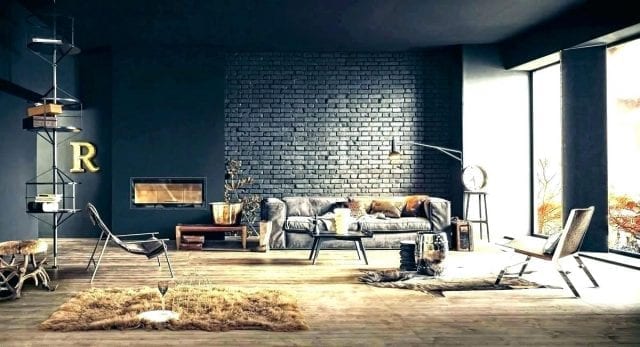 Modern industrial spaces are all about combining the old with the new. One of the best ways you can do this is by juxtaposing different elements, including wood, brick, metal, concrete, and leather. Industrial spaces tend to have wood elements that err on the older side, rather than smooth and finished. For example, you might invest in natural birchwood, or wood that's been used and has a history to it. Search for "wood" on Etsy and you'll find plenty of natural wood elements you can incorporate into your home.
Second-hand stores, your local Facebook marketplace, and yard sales are a great way to locate pieces with a story. Metal, on the other hand, will play a huge role in the overall design. This material screams "industrial." Use metal in your kitchen bar stools, fixtures, finishes, industrial lighting, and much more.
Consider an Open Layout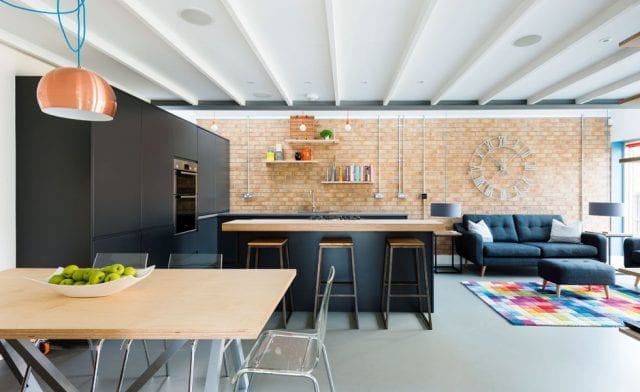 Industrial spaces are large, open, and vast. As such, you should think about how space flows from one wall to the next and one room to the next. Ideally, you'll already have space with an open layout and can work from there. If you don't have an open layout, consider removing a wall, which can be much more fairly priced than you might think—especially for single-story homes and non-load bearing walls.
However, if you can't knock down walls, there are other ways you can make space appear as open as possible. The function should be the focus here. Pathways around the room should be as wide as possible. You can also make space appear bigger than it is by incorporating a few tips and tricks. This includes using lighter colors on the walls (making it easier to reflect light), using hidden storage items, incorporating shelving near the ceiling, using striped rugs or other decorative pieces to elongate space, and more.
Don't Forget the Outdoors
Your outdoor space can easily match your indoor industrial aesthetic, too. Use metal chairs and tables, plants in wood or stone pots, and string lights with Edison bulbs. For homes with exposed window wells, opt for metal well covers. Not only do these stay in line with your theme, but they're also functional, too. Check out these industrial design ideas for outdoor areas to help steer you in the right direction.