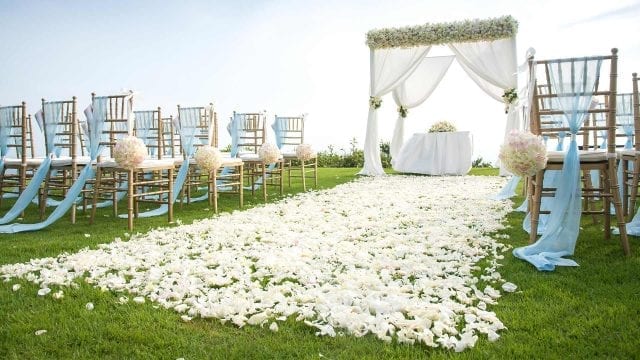 You and your better half have always wanted to hold your perfect dream wedding in Bali. You did your homework and searched the internet for the best option, but you are spoilt for choices as there were just too many beautiful places to pick. You wished that someone could narrow down the search for you to the top five breathtaking wedding venues. If you are holding your wedding in Bali, and unsure as to how and where you should start from, it is best to loop in the experts.
When planning for your wedding, pick what you love best. While some prefer intimate ceremonies, some would want to hold big parties instead. The venues in Bali have been divided into three categories; Beach, cliff, and garden wedding. The Seven Agency is one of the many local companies which offer the best price and quality rations. They also have the widest choice of available venues and locations.
You can choose your breathtaking wedding venue from the top five picks. The Cliff-Edge Cabana at Alila Villas Uluwatu has been known to be one of the all-time favorite wedding venue picks. This iconic resort is exclusively for the brides and grooms. It is designed in such a manner with marriage ceremony in mind.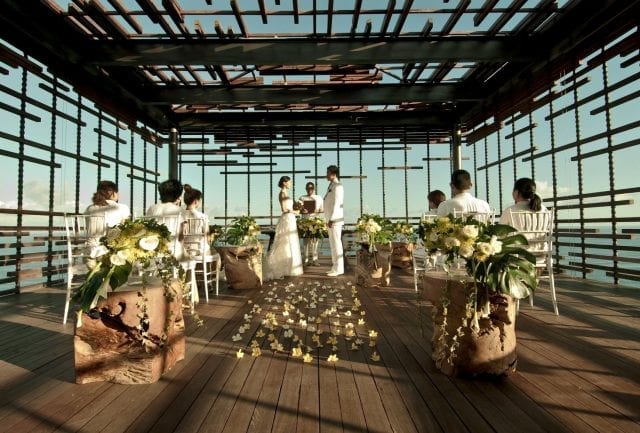 This venue can cater to up to 120 guests. You can also have the choice to book the whole resort for a more exclusive and glamorous wedding. The reason for this place to be prevalent for weddings is due to its flair and exotic vibes, which is set in the tropical landscape and the sea that gives a peaceful, yet a vibe, full of celebration.
Couples who are looking for a beautiful memory to be made at their marriage ceremony tend to choose such a place. This villa is known as one the best destination for a wedding due to its wonderful architecture. It particularly gives the wedding vibes due to the gorgeous gardens, sunset soirees, and starlit banquets that are pivotal for the pictures.
If you have always preferred having a marriage ceremony in a private villa and worried about logistics, then The Surga Villa Estate is the venue for you to consider. You can get a beautiful view of the ocean from this magnificent clifftop villa. You can invite up to 150 guests for your wedding.
They can also accommodate 26 sleep-in guests if any. This villa has its own team of event organizers, making them well versed in every aspect of this area. This villa can make your big day more exciting with the tropical island breeze.
You can easily access the beach with a mauve sunset and some opulent extras, such as; tennis court, onsite spa, and outdoor cinema. It's a very beautiful and mesmerizing place, which seems about right for you to start your beautiful wedded life from. You can enjoy the best moments of your life, without worrying much about the rest of the stuff.
Bisma Eight is a wedding venue that loves a fairytale forest setting, with lush green ravines surrounded with trees and nearby volcanoes. It has two amazing marriage ceremony venues. The couple who prefer more of the greenery and nature tend to choose this destination for their wedding, and it sure does look like a fairytale. The Forest Pool is a jungle setting with a floating aisle.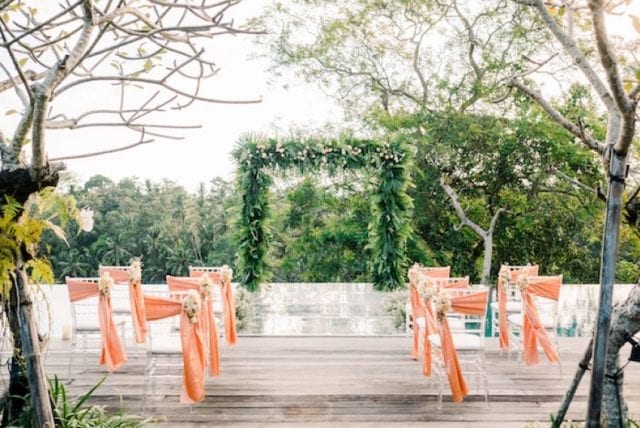 It is situated high up in the treetop canopies and can hold up to 100 guests. The other venue is the Garden Rooftop, as it can hold up to a maximum of 80 guests; it is more suitable for an intimate affair.
This al-fresco spot is surrounded by flora and fauna, making it the best place for romance in the air. It doesn't matter which venue you select, and you can make your event unforgettable with exotic flowers, live musicians, and gourmet food.
If you have always fancied having your wedding at a luxurious six-star private villa resort, then The Ungasan Clifftop Resort makes it the perfect option. It's a magical place for your wedding. It has nine marriage ceremony venues to choose from.
From the white-sand private beach at Sundays Beach club to seven private villas with their own cliff-edge infinity pools to Selatan Restaurant known for its panoramic views. These venues can cater up to a maximum of 100 guests. You can also choose to book the whole resort. You can enjoy the ocean views and 70 meters crashing waves from there. Comfort and elegance are amalgamated to make your event more spectacular and memorable.
Lastly, the Glasshouse at Tirtha Bridal. Brides-to-be who love glamour would pick this option as their favorite marriage ceremony venue. It's considered as the most sophisticated and worthy wedding place. It has a unique and stunning architecture, with sleek glass exteriors and reflective decor to capture the moon and starlight. As well as. The fairytale garden enhanced the beauty of this wedding destination.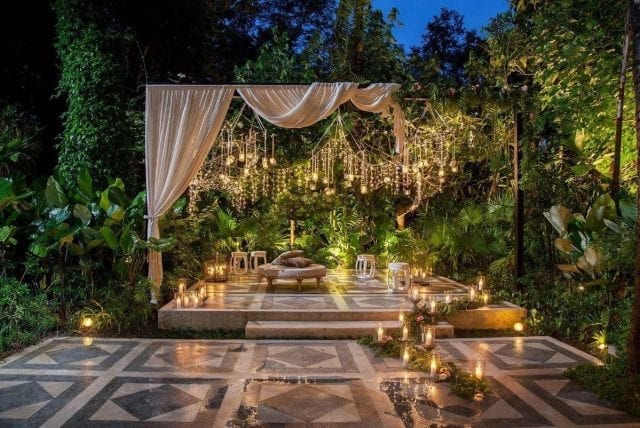 It also has a pool terrace, greenhouse area, exquisite yellow bamboo garden, comfortable lobby lounge, and plumeria room with glass. This venue can cater to a maximum of 150 guests. This venue will also make the guest leave the wedding stunned with awe.
Many people may say that it doesn't matter where you get married, as long as you're happy. This may be true, but no one wants to start their wedded life from a bad experience. You want your wedding day to be as beautiful and magical as you would want the rest of your life to be.
Hence it is important to make decisions based on what you and your significant other may prefer. Choices that may affect your life further need to be made under proper consideration, and there shouldn't be compromises from the couple's side as this day is surely all about them.