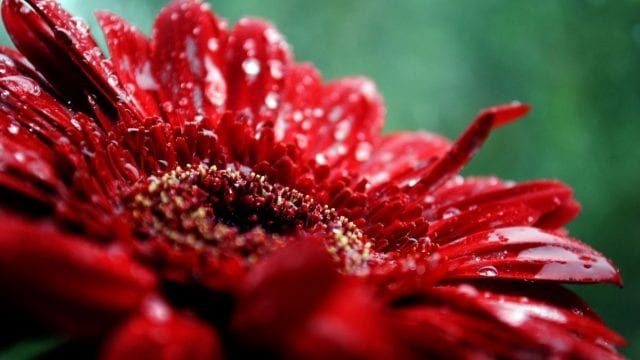 Symbolism based on the color of flowers has been a special chapter in tradition ever since the creation of the world. Flower shop assistants will often tell you that actually every flower color offers a rich and meaningful story, thousands of years old.
Generally speaking, flowers are able to exert a magnificent and, of course, positive impact on a person and their home and at the same time enhance many aspects of life. So why not use plants for our own good? But when you think of all that, what color stands out as the most dominant in your mind? That's right – it's red.
Although red nuances are commonly associated with a sense of true love and passion, they can also be used to express respect, desire, and courage. Flowers like this are a classic that you will not go wrong with, and most people choose it when they want to express their deepest feelings to somebody.
In addition, it is closely linked to life, fire and beauty. Feng shui experts say that red flowers should be used when decorating the rooms of our home in order to create a refined atmosphere filled with family harmony, trust, and love.
Let's take a look at some of the most beautiful blooms adorned by fifty shades of red which represent pure perfection when it comes to floristry.
Red orchid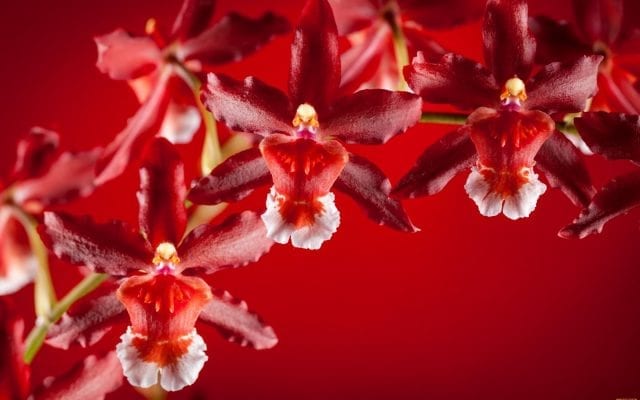 Although almost every flower could be said to represent the best in man, the orchid with its beautiful and lavish appearance certainly justifies the title of the flower of love and fertility it bears. It's a symbol of our desire for intimacy, a symbol of birth, but also peace, serenity, and creativity.
It depicts abundance, the need to achieve the highest goals, and as it's known for its petals of perfect geometric shape – its name has always been associated with the perfection of nature. Sophisticated and exotic at the same time, the orchid is accepted worldwide as a symbol of romance, love, attention, innocence, and chastity.
On the contrary, red orchids will also emphasize passion, determination, perseverance, and undisguised love, while slightly brighter shades, just like pink, will accentuate the happiness and joy. Experts claim that dark red orchid in the apartment helps to get rid of apathy and laziness.
Red peony
Peonies are considered to be among the types of plants that require the lowest maintenance level. Their lush flowers are the most beautiful decoration of gardens and homes in the spring. It's a gorgeous flowering shrub that grows up to 1 to 2 meters in height and the flowering lasts from mid-May to mid-June, followed by extraordinary red blooms.
It was named after the Greek god Peon who cured Pluto with this plant. The Chinese were among the first nations in the world to recognize its beauty, therefore we should thank their patients for the first cultivated peony ever!
In addition to protecting the family and children from negative energy, peony root is believed to attract good fortune and it's advisable to cultivate it in your garden. It also protects the home, and in the nights of the full moon, the peony seed strung on the white thread is carried as a protection against negative energy. Many brides around the world put it in their wedding bouquet as it's a symbol of a happy and harmonious marriage.
Red Helenium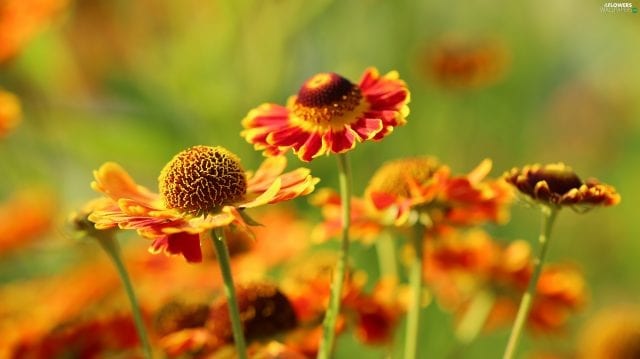 This marvelous bloom originates from North America. It grows up to 70-80 cm in height and it can look absolutely wonderful in combination with other types of flowers in the flowerbed. This plant is very fond of the sun – it simply suffers in the shade and can't grow well in such conditions. It also blooms from mid-May to June.
Red helenium is believed to have been named after the beautiful wife of King Menelaus, Helen of Troy, who became the cause of the breakup and war between Troy and Greece. These fiery buds blend seamlessly into rain gardens, thrive in moist soil, and are also referred to as autumn jazz by flower enthusiasts.
Red anthurium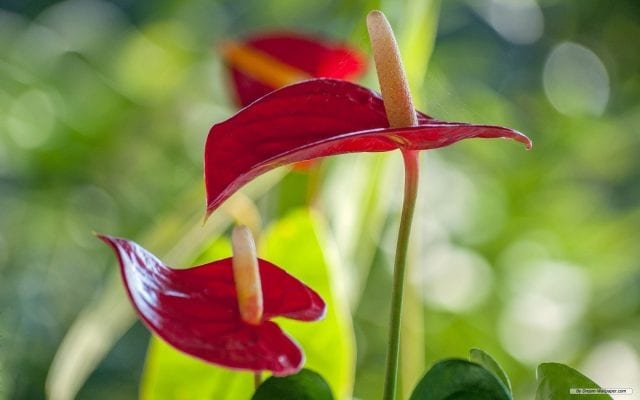 The plant is known as the anthurium or flamingo flower because it resembles this bird with its appearance and its shape. It belongs to the Araceae family and it's an evergreen plant whose height is about 75 cm and whose leaves are large, dark green, hard, leathery, glossy and dense on tight petals.
Anthurium is one of the most commonly grown houseplants nowadays. With its elegance, it adorns every interior, gives it a special shine and brings an exotic touch. Anthurium flowers symbolize steadfastness, love and friendship. In Hawaii, it's called the Hawaiian heart and it's believed to be a magical plant of supernatural powers that protects against evil spirits.
Passionate anthurium lovers believe that this flower helps people build pure love, especially in the homes of young couples and families with children. Such people will live in prosperity, happiness and love. Even if you are in a long relationship or married, this flower can help. It will motivate you to renew your feelings and make the relationship fresh and exciting.
One thing is for sure – the list doesn't finish here. Classics like red roses are still highly appreciated and popular everywhere, just like many other red variants of other wonderful types of flowers.
Seeing all these miraculous meanings that are hiding behind the most beautiful red flowers of the world, it's not difficult to notice that red brings a special sparkle in people's lives. In case you ever want to please your loved ones with such beautiful gifts, there are so many wonderful flower shops that let you choose the prettiest red blooms and send them wherever you prefer – just like Flora Queen with its lovely red bouquets which you can find here.
You should make sure to show the real flame of the red color and its power, and that way, the message will always be clear – just like your feelings!