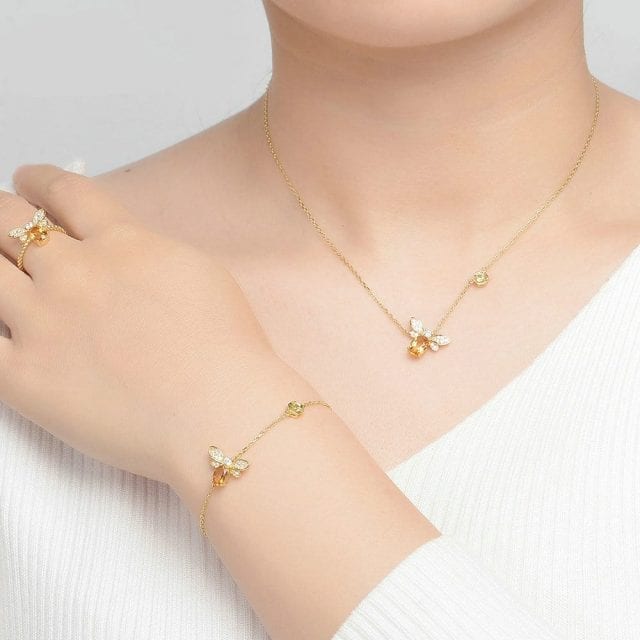 Jewelry has always been a necessary part of every woman's outfit and for many of us wearing a necklace or a bracelet is a daily must. The market offers a great variety of branded and other pieces of jewelry. Local jewelry companies expand internationally through the rising online-sales. We can see the constant growth of the jewelry market. At the same time, it is a real challenge to find something unique that would express your style and taste. The only option is to customize your jewelry by adding personalized engraving or creating an individual design.
Necklaces
Many women find wearing a ring or watch uncomfortable, but there are no women who would say no to a necklace. It's very easy to wear it and there is no way that we feel somehow uncomfortable by wearing one. Simple necklace around your neck for every-day wearing can be a nice little touch in your overall outfit and it will highlight the beautiful curve of your neck and collar bone. A more dramatic and bigger necklace can be perfect for night out or some classy occasion such as a ball or theater. You can find a perfect necklace for every occasion and if you want to have a perfect gift for your girlfriend, mother, sister or friend you can find many possibilities how to make the necklace more personalized.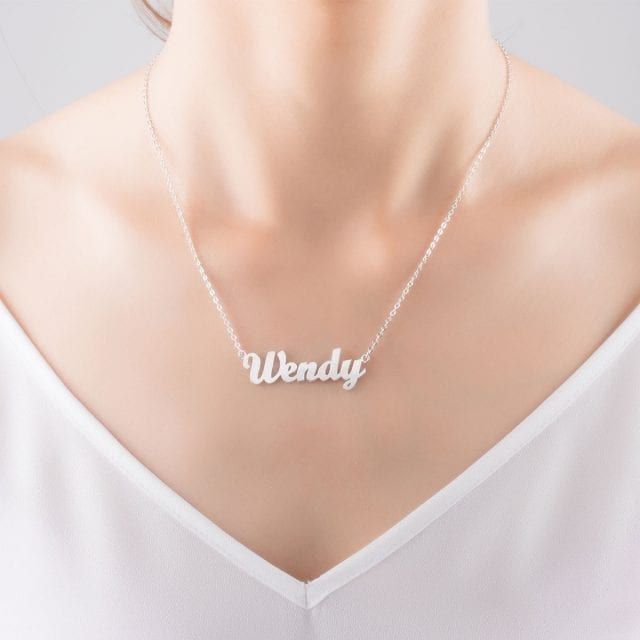 Custom name necklace is one of the most popular types of jewelry and nowadays it's quite easy to buy one with exactly the name you want. You can wear a necklace with your own name, like Carrie in popular American series Sex and the City, or you can put names of your loved ones on a necklace and keep them always close to you. It's also a really unique gift for your close friend or family. Your mother would be pleased with a necklace with all her kids' names or you can exchange a name necklace with your sister or best friend.
Back in the 80s, the name necklaces were considered very exclusive and expensive jewelry and only celebrities or wealthy women wore them. But today the options are never-ending and you can come up with your own idea and make it real. There are many stores or websites which will help you turn your idea or design into a reality. You can choose the type of precious metal, size, and font of the writing or design of the necklace. If you want to make your necklace more colorful, you can add some stone. Very popular are for example birthstones, which can be used according to your birth month or preferences. They have many different colors and it can make your necklace even more special.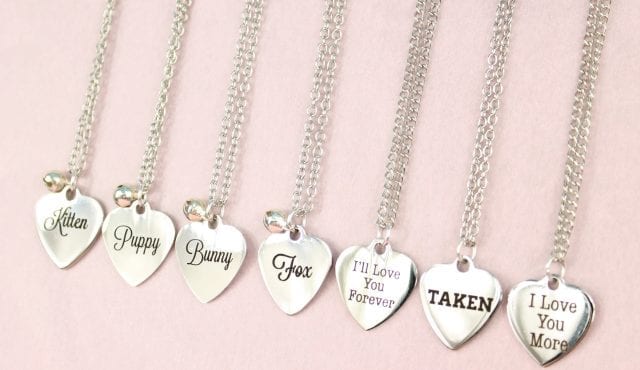 If you feel like having a necklace with a name is too much, you can choose a more discreet engraved necklace. The possibilities are again endless. Popular is a bar necklace with engraved name or date. Perfect gift for your mother would be multiple ring necklace with names of all her kids or dates of birth. You can also use only initial letters of names and add a birthstone. Your mother would be thrilled to get a present like this.
Jewelry is always a great gift for a woman and a personalized or custom necklace is even better. It shows that you are creative and that you took your time to create something special for her.
Bracelets
Name bracelets are also a great idea for a gift. What can express your love and care to a person better, than a gift of jewelry with engraved initials, meaningful phrase, memorable dates or close to heart special name? It is timeless and it definitely will make a stunning effect on gift-taker. Such jewelry will bring pleasant memories and inspiration during the day. If your girlfriend, mother, sister or friend likes to wear bracelets, she would be thrilled from getting one like that.
When comes to a bracelet, the simple design of the name bracelet will be definitely more appropriate than some extravagant style. The name as decor will attract attention, so you don't need to invent some fantastic design to show off your bracelet. Also wearing a big heavy bracelet can be quite uncomfortable and if you are not used to that your hand can hurt by the end of the day.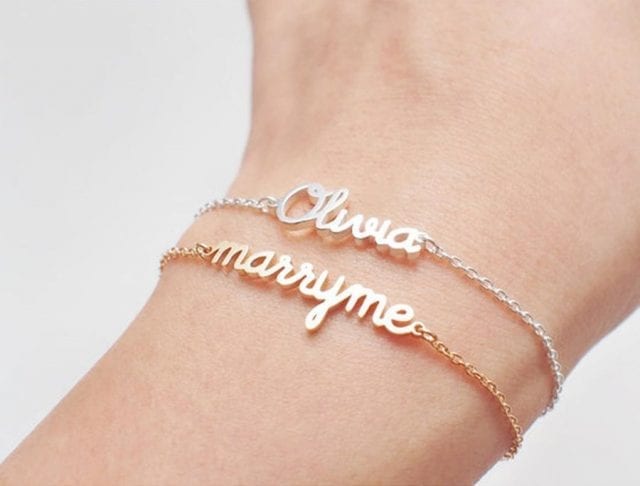 When you are looking for a gift for a couple, one of the best ideas would definitely be a name bracelet. You can order custom name bracelet with the same design and engraved or stamped name that will remind you about some special person no matter what the distance is between you two. If you are looking for a gift for a mother, you can order a bracelet with a baby's name personalized with a birthstone, for instance. There are many other options for personalized name bracelets. If you don't want to show your whole name you can use only your initials or initials of someone you like. The name can be engraved into a pendant or a bangle. You can also choose the material of your bracelet. For example, rose gold is lately very popular jewelry material and it looks very elegant and classy. If you are looking for something really specific and you cannot find it you can always come with your own design and find a shop, which will make it tailor-made. There are many online companies, which offer this type of services so don't worry, your masterpiece won't go to waste.
If you are a fan of rings you can also make a name ring. In this case, it would be probably better to use engraving otherwise the ring could be very big and uncomfortable to wear. Engraving the names to a ring is mostly used for wedding rings so you have your partner with you every day but it can be also used for a friend or family member.
Elegance and charm are always in trend because necklaces, bracelets, and rings in this style will suit all outfits and any occasions. Read more on this website.