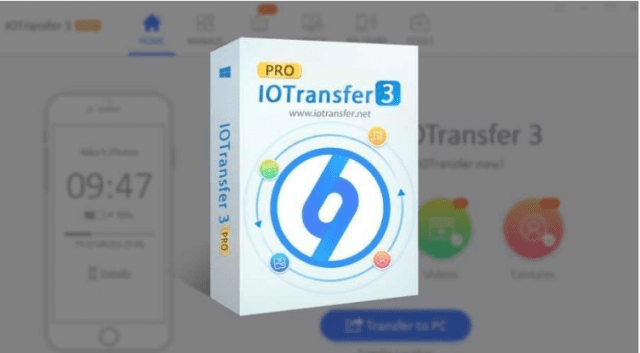 We have tried IOTransfer 3 for you, in our opinion it is one of the best software for managing iOS devices, with lots of interesting features already integrated. 
Part 1: Overview: Manage iOS Devices
IOTransfer, as the name implies, is an iPhone transfer software, an easy-to-use program that allows you to manage files, contacts, and media present on your iPhone, iPad, iPod touch and transfer them easily to a PC and vice versa, even without a cable. The program, which is compatible with Windows 7, 8, 8.1 and 10, requires minimal technical specifications, which allows you to run the executable on any PC. As for your iDevices, at least iOS 8 is required – so all the latest releases are supported.
Part 2: Installation of IOTransfer 3 for Windows
Installing IOTransfer 3 on Windows is very simple and the whole operation takes only a few minutes. One of the strengths of this program is the non-necessity of having iTunes installed: in fact, it will automatically download the services necessary for its correct operation if they are not already installed in the operating system.
Step 1: The first step is to download IOTransfer 3 from its official site.
Step 2: Once downloaded, double click on iot-installer-v3.exe to start the installation, and then click on Install.
Step 3: If necessary, check the download of Apple add-ons.
Step 4: Wait for the download and installation.
At the end of the installation, it will start automatically.
Part 3: Interface and Functionality
Once it is open, a window with six main sections will be presented: Home, Management, Cleaning, Video, Air-Trans, and Tools.
The program settings are accessible from the hamburger menu at the top right and allow you to change the language, to enable the automatic start of the program when the PC is switched on and to change the default download folders videos or files received from the iPhone/iPad.
3.1 Home screen
The Home screen provides a summary of the iOS device connected to the PC. All information on the device is displayed, such as the percentage of battery charge, how many GB of memory are occupied and a brief summary of the number of photos, music tracks, videos and saved contacts. Clicking on one of the four icons takes you to the relative section that allows you to manage the specified content.
3.2 iPhone / iPad Management
The Management section allows you to easily monitor all the contents on your iPhone or iPad. By splitting each type of file into its own section, it allows you to have an overview of photos, music, books, contacts, voice memos and even installed applications.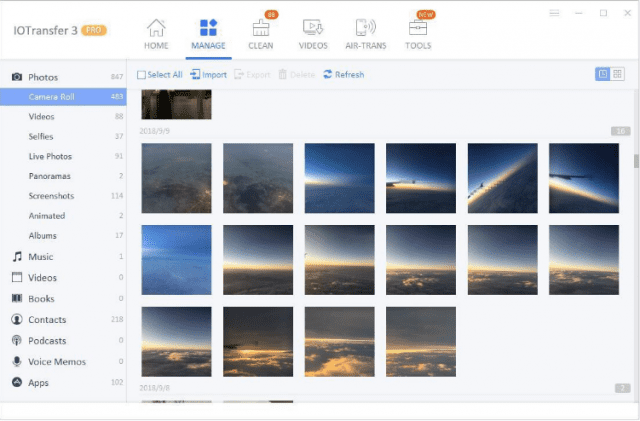 You can select, for example, a series of photos in the camera roll and delete them or import them on your PC without going through the awkward synchronization of iTunes. One of the comforts offered by IOTransfer 3 is surely that of eliminating multiple applications at the same time, simply by accessing the Apps section. Each section even has a convenient search function, useful for filtering content.
3.3 Cleaning the iPhone / iPad
If you are not sure of the files you want to delete from your smartphone or tablet with iOS to make room, the Cleaning section is comfortable and, above all, very intuitive. IOTransfer 3 automatically carries out an analysis of the device, advising you which files to delete to make room.
3.4 Video 
The Video section integrates one of the most interesting features. In fact, it allows you to download for free any video from the web, even from sites like YouTube, Instagram, Facebook, Twitter, Twitch and many others. The free online video downloader service is also available online.
Not only: once you download the video, you can synchronize it immediately with the iPhone / iPad or convert it to another format, such as MP3, MP4, etc.
3.5 Air-Trans – Wireless Transfer
Air-Trans allows you to wirelessly transfer content between the iOS device and the PC – is connected to the same network. This feature uses the direct Wi-Fi connection to allow you to transfer photos, videos and other files like word, excel, pdf, etc., in just a few seconds without having to use the cable.
3.6 Instruments
The Tools section contains real gems. In fact, from here it is possible to access multiple very specific tools:
1. The first allows you to download any photos and videos from Instagram simply by inserting the post link.
2. The second tool allows you to create animated GIFs quickly and easily. You can create GIFs from a video file or transform static images into GIFs. 
3. The third tool provides you a smarter way to manage all your iCloud photos.
They are certainly not tools that you will use every day, but having them always available and integrated with the software is a convenience not just. More than anything, they are totally free for you. There is good news that the next updates namely IOTransfer 4 will bring you a new tool called Similar Photo Cleaner that can help you quickly find and delete similar photos on both your iOS devices and your computer.
Conclusion
As for us, it is one of the best software to manage data on your iOS device, with a user-friendly and intuitive interface. The device management tools offered by IOTransfer 3 guarantee users a complete user experience and an additional possibility to quickly and easily control the data saved on the iPhone or iPad.
Will you give it a try? Do you consider it a useful program to manage your iOS devices? Let us know in the comments.