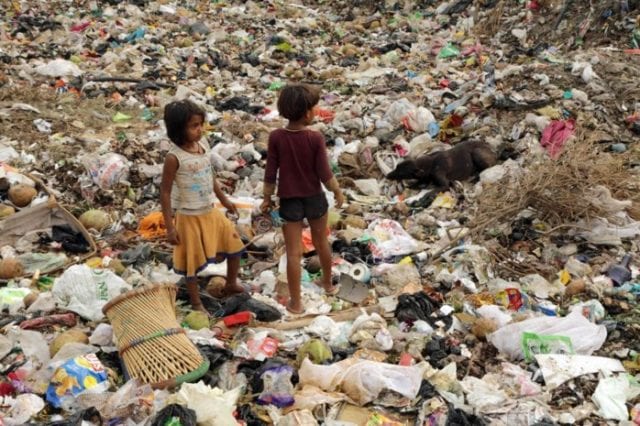 December 26, 2013. South Africa. While half the world's population would give anything to escape the extreme poverty they're living in, wealthy corporations are paying big bucks to vacation in sprawling countryside resorts pretending to be shantytowns. To the casual eye, it's like any other third world hunger-stricken town. But they're actually luxury accommodations for the rich and famous.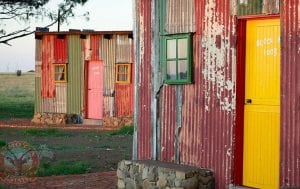 Two of the hotel's 'shanties', complete with heat, electricity, wireless internet, a spa, and more. Image courtesy of Emoya Luxury Hotel & Spa.
This isn't a joke, a one-time publicity stunt, or an idea for a Hollywood comedy. What it is, according to the company that owns it, is an entire resort town with a hotel, fenced-in game reserve, and custom-built 'shanties', perfect for company outings, team building exercises or even just a luxury vacation seeing how the other half lives.
Emoya Luxury Hotel & Spa
Located in South Africa, the resort owners tout their facility as the, 'Shanty Town at Emoya Estate for Accommodation in Bloemfontein.' They describe it as a, 'shanty town for a unique accommodation experience.' Promotional materials are aimed at corporate outings, wealthy vacationers, big game hunters, and anyone looking for a unique experience.
'Millions of people are living in informal settlements across South Africa,' the resort's website explains, 'These settlements consist of thousands of houses also referred to as Shacks, Shantys or Makhukhus. A Shanty usually consists of old corrugated iron sheets or any other waterproof material which is constructed in such a way to form a small "house" or shelter where they make a normal living. A paraffin lamp, candles, a battery operated radio, an outside toilet (also referred to as a long drop) and a drum where they make fire for cooking is normally part of this lifestyle.'
For those who will never have to know the poverty of a shanty town, that's how the resort owners describe what a 'shanty' is. And while that may be a fair representation of a real shanty, what wealthy vacationers will find in their custom-built metal box is something right out of New York penthouse suite.
Too much to handle
Obviously, living the life of a poor person, even for just a day or two, is too overwhelming for the average rich person. Instead of enriching their character by actually experiencing some of the hardships of a shanty town, these wealthy vacationers have every amenity. The website proudly proclaims, 'This is the only Shanty Town in the world equipped with under-floor heating and wireless internet access!'
Assuring potential vacationers, safari hunters and corporate outings that they're in no actual danger while pretending to be poor, the resort says, 'The Shanty Town is ideal for team building, braais, fancy theme parties and an experience of a lifetime. Accommodates up to 52 guests. Our Shantys are completely safe and child friendly.'
The resort's website goes on to list the items each shanty-looking suite includes:
Under floor heating
Electricity
Wireless internet
Long-drop effect toilet
Donkey geyser
Electrical geyser
Bathroom with shower
Braai facilities on request
Breakfast provided by hotel
Spa
Sheebeen bar
Spookhuijs
Cheetah experience
Rich people playing God
We couldn't leave this article without checking out what exactly their 'Cheetah experience' is all about. Readers will have to decide how they interpret and feel about the luxury resort's 'unique' experience and long term goals. Basically, the company is creating a new bloodline of cheetah, breeding them in their petting zoo, releasing them into the wild, and then selling safaris to big game hunters.
Breeding cheetahs and releasing them into the wild is about the only part of the above description that is admirable. The rest begs a number of questions that even a novice would point out as odd. First, what do they mean when they say, 'We also wish to introduce a new bloodline while breeding with cheetahs.' Could they be playing God by creating a new animal or just creating a legal loophole to claim ownership of it and freewill to do whatever they want with the animals? Who knows.
The other red flag to any lover of animals is – how can you domesticate a wild animal and then release it back into the wild? The resort's website touts how their cheetahs are bred in an enclosed space where hotel guests can all but play with them. With crowds brought to within only a couple feet of the cats in a small room on a repeated basis, the resort says, 'We encourage you to take photos and to use all your senses as you make memories that will last a lifetime. There are always cubs with which one can interact.'
The site finishes by reminding people that the 'Cheetah Experience' is perfect for a, 'birthday, family celebration or corporate event.' They even have a fully stocked bar and big screen TV. To check it out for yourself, visit the Emoya Luxury Hotel & Spa website.
Recent Whiteout Press articles:
CIA leak says Saudi Arabia carried out 9/11 not bin Laden
Congressmen, Lobbyists, City Dwellers pocketing Farm Subsidies
1993 – Govt spied, We sued, We won – a lesson
American GMO Corn made from E.Coli Bacteria