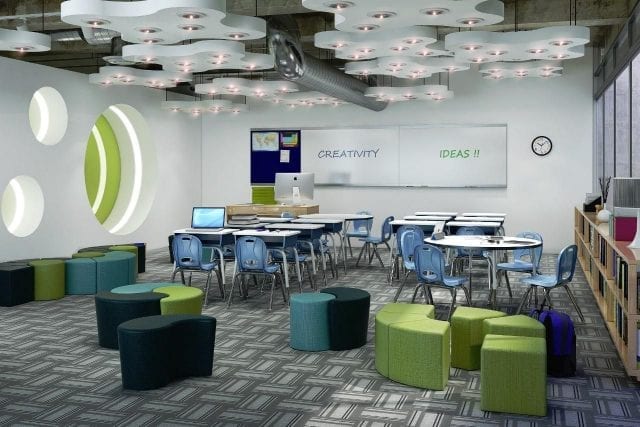 Designing a classroom around the curriculum is a somewhat modern idea that is being adopted by teachers, professors, and administrators around the country. The new curriculum revolves around collaboration and technology in the classroom. Collaborative learning requires a different set of tools than the classic classroom often has.
As an educator, you want to provide the tools to ensure that your students succeed and having furniture that is designed to make collaboration and the use of technology easier is essential. The team at HomeShoppingMalls assists educators and administrators with budget allocation and product selection every year. With the help from the experts at Luxor Furniture, we have put together a list of "must-have" furniture pieces for the modern classroom.
1 – A Thoughtful Desk That Promotes Collaboration
A desk is likely where your students will spend the majority of their time in the classroom. Rather than fill your classroom with the single student desks of old, try using two student desks and larger tables. Better yet, make your two student desks a standing desk.
Studies show that when a student is standing, they are more likely to participate and stay alert to their surroundings. Luxor's standing desks are designed to be durable and easy to use. All you need to do is turn the crank on the side to turn your collaborative two student desks into a Luxor standing desk.
2 – A Presentation Station
Group presentations are prevalent in almost every classroom. Once a collaboration focused curriculum is in place, the number of group presentations tends to increase. Providing your students with a presentation station allows them to have all of the tools necessary when presenting.
Luxor Furniture's Ultimate Presentation Station includes two locking cabinets, three flat shelves, one drop-leaf shelf, one slide-out projector platform, cable management, three-outlet electrical assembly, and is conveniently on wheels. This means that when your students step up to the front of the classroom they can store everything they need for their presentation on a single rolling station.
3 – A Collaboration Station
Luxor Furniture's Collaboration Station is aptly named. It is a double-sided magnetic whiteboard with four detachable marker boards so that students can collaborate and share ideas. The main whiteboard area is easily extended by attaching four small whiteboards to connectors. Your students can visualize ideas on the large whiteboard, on all five whiteboards combined, or using the individual whiteboards. Having so much space to visualize ideas facilitates great group discussion.
4 – A Charging Station
Technology in the classroom is becoming more and more prevalent with every technological advancement. Students carry supercomputers in their pockets that they take for granted and educators use Smart Boards and laptops to help improve the learning of their students. A charging station for tablets and laptops is a must these days. Luxor Furniture's charging cabinets are intelligently designed to store your technology securely and keep everything organized.
Whether you are designing your classroom with an unlimited budget or looking for products that make a major improvement at a reasonable cost, Home Shopping Malls has you covered.