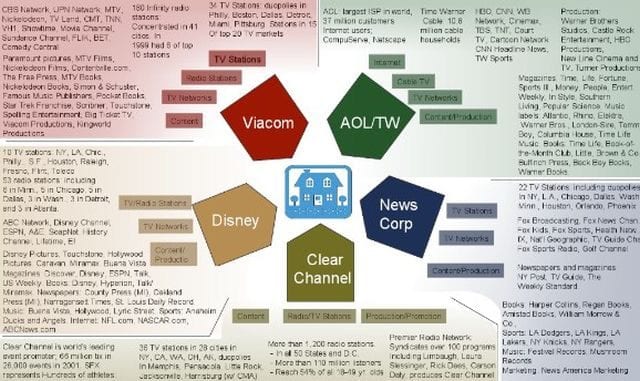 July 11, 2012. Los Angeles. (ONN) Imagine all the various radio stations in the US, different in every city, both AM and FM. Then imagine all the TV stations, a new set in every city, plus a thousand cable TV stations. Then picture all of America's newspapers, local and national, plus all the magazine, music, movie and book publishers, producers and studios across the US. Now consider the fact that the vast majority of all those entities are owned by 5 corporations and controlled by 5 men.
There's a new website joining us in the independent media world that specifically targets the corporate-owned media outlets for scrutiny. The site is called CorporateMediaExposed.com and they've presented us with a break-down of all the various national and local media outlets the 5 main corporations own and control. NBC/Universal would be the 6th corporation included in the joint monopoly, but is not included.
The data does not include News Corp's announcement that it will split its holdings into two separate companies – one extremely profitable and one on the verge of bankruptcy. Other data is slightly dated but the general details are still accurate today. Whiteout Press has broken-out the data in the chart provided by Corporate Media Exposed and transcribed it below.
The 5 Corporations and CEO's that control almost everything Americans hear, watch and read:
Viacom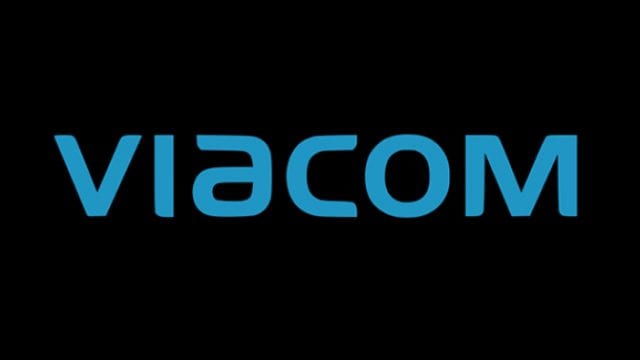 -34 TV stations including Boston, Dallas, Detroit, Miami, Pittsburgh, 2 in Philadelphia and additional stations in 15 of the top 20 TV markets.
-180 Infinity radio stations concentrated in 41 cities. At one time, the corporation controlled 6 of the top 10 stations.
-Outlets include CBS, UPN, MTV, Nickelodeon, TV Land, CMT, TNN, VH1, Showtime, Movie Channel, Sundance Channel, FLIK, BET, Comedy Central.
-Studios include Paramount pictures, MTV Films, Nickelodeon Films, Contentville.com, Spelling Entertainment, Big Ticket TV, Viacom Productions, Kingworld Productions.
-Publishers include The Free Press, MTV Books, Nickelodeon Books, Simon & Schuster, Famous Music Publishers, Pocket Books, Scribner.
AOL/Time Warner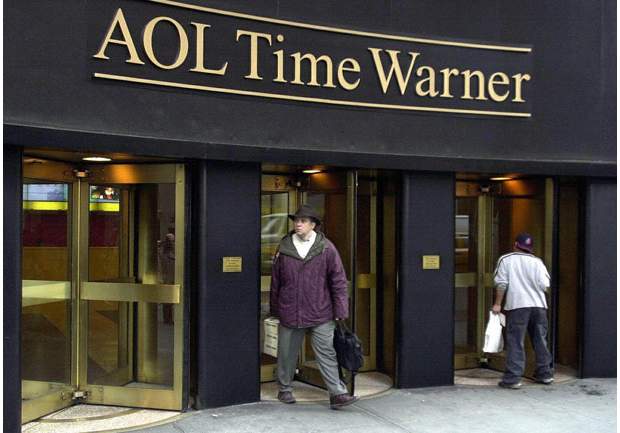 -Internet properties include AOL, the world's largest internet service provider supplying internet to 37 million customers. Also includes CompuServe, Netscape.
-Cable TV networks reach 10.8 million households with properties such as HBO, CNN, WB Network, Cinemax, TBS, TNT, Court TV, Cartoon Network, CNN, TW Sports.
-Studios include Warner Brothers, Castle Rock Entertainment, HBO Productions, New Line Cinema and TV, Turner Productions.
-Magazines include TIME, Life, Fortune, Sports Illustrated, Money, People, Entertainment Weekly, In Style, Southern Living, Popular Science.
-Music labels include Atlantic, Rhino, Elektra, Warner Brothers, London-Sire, Tommy Boy, Columbia House, Time Life Music.
-Publishers include Time Life Books, Book of the Month Club, Little Brown & Co., Bulfinch Press, Back Bay Books, Warner Books.
Disney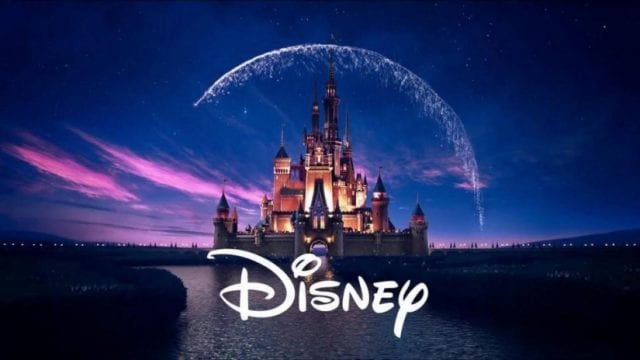 -10 TV stations including New York, Los Angeles, Chicago, Philadelphia, San Francisco, Houston, Raleigh, Fresno, Flint, Toledo.
-53 radio stations including 6 in Minneapolis, 5 in Chicago, 5 in Dallas, 3 in Washington DC, 3 in Detroit and 3 in Atlanta.
-Outlets include ABC, Disney Channel, ESPN, A&E, SoapNet, The History Channel, Lifetime, E!.
-Studios include Disney Pictures, Touchstone, Hollywood Pictures, Caravan, Miramax, Buena Vista.
-Magazine and Book publishers include Discover Magazine, Disney Magazine, ESPN Magazine, Talk, US Weekly, Disney Books, Hyperion, Talk/Miramax.
-Newspapers include County Press, Oakland Press, Narragansett Times, St. Louis Daily Record.
-Music studios include Buena Vista, Hollywood, Lyric Street.
-Properties include the Anaheim Ducks, Anaheim Angels, NFL.com, NASCAR.com, ABCNews.com.
News Corp
-22 TV Stations including Los Angeles, Chicago, Dallas, Washington DC, Minneapolis, Houston, Orlando, Phoenix and 2 in New York.
-Outlets include Fox Broadcasting, Fox News, Fox Kids, Fox Sports, Health Network, FX, National Geographic, TV Guide Channel, Gold Channel.
-Radio properties include Fox Sports Radio.
-Newspapers and Magazines include the New York Post, TV Guide, The Weekly Standard.
-Publishers include Harper Collins, Regan Books, Amistad Books, William Morrow & Co., News America Marketing.
-Music studios include Festival Records, Mushroom Records.
-Properties include the Los Angeles Dodgers, Los Angeles Kings, Los Angeles Lakers, New York Knicks, New York Rangers.
Clear Channel
-36 TV stations in 28 cities, including markets in New York, California, Washington, Ohio, Alaska, Pensacola, Little Rock, Jacksonville, Harrisburg and 2 in Memphis.
-1,200 radio stations including outlets in all 50 states and Washington DC reaching more than 110 million listeners.
-Properties include Premier Radio Network which syndicates over 100 programs including Rush Limbaugh, Dr. Laura, Rick Dees, Carson Daly, and produces Clear Channel concerts.
-The world's largest event promoter supplying 66 million tickets to 26,000 events in one year. SFX agency represents hundreds of professional athletes.
Who are the 5 men who control America's TV, radio, news, print, music, movie, cable, entertainment and production industries?
Viacom – Philippe Dauman CEO
AOL/Time Warner – Jeffrey Bewkes CEO
Disney – Robert Iger CEO
News Corp – Rupert Murdock CEO
Clear Channel – Bob Pittman CEO