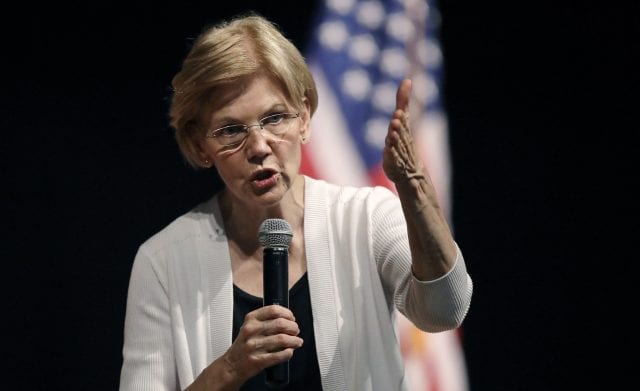 December 16, 2013. Boston. (ONN) The popular first-term US Senator from Massachusetts, Elizabeth Warren, insists she's not running for President. But her carefully worded comments suggest she hasn't completely ruled it out. Warren only says she's not running right now or has no concrete plans to run, which is the same verbal dismissal all the potential candidates are using at this early stage.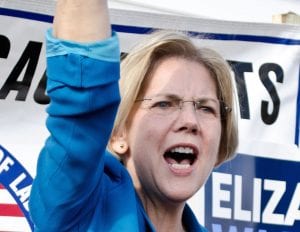 Would the Democrats actually nominate a genuine corruption-buster for President? Image courtesy of Tim Pierce.
It's beginning to look as if America's two establishment parties have reversed rolls. Heading into the 2016 Presidential Election season, it's the Republicans that have the passion and excitement behind their prospective candidates. Whether it's the independent leaning Chris Christie, the libertarian Rand Paul, the ultra-conservative Latino Ted Cruz, or the religious right's Rick Santorum – the GOP is fired-up.
By comparison, the Democrats are resigning themselves to the old Republican strategy – nominating whichever tarnished, entrenched, career politician that's next in line. Polls show that the top two Democrats in the race for President at this early stage are former first lady Hillary Clinton and current Vice President Joe Biden.
The latest polls
The latest voter poll from Massachusetts' local ABC 17 News is eerily similar to polls taken two years before the 2008 Presidential election. Those results eight years ago clearly showed then US Senator Hillary Clinton with a seemingly insurmountable lead. Then, just like now, Joe Biden was in the mix, along with a little-known, first-term US Senator with a powerful populist following. In 2006, that popular rookie Senator was Barack Obama. Today, that rising star is Massachusetts' rookie Senator Elizabeth Warren.
Here are the results of the local ABC poll taken during the final week of November 2013:
Republicans
Chris Christie – 24%
Rand Paul – 13
Paul Ryan – 11
Ted Cruz – 10
Marco Rubio – 9
Rick Perry – 7
Rick Santorum – 6
Jeb Bush – 6
Democrats (with Clinton in the race)
Hillary Clinton – 63%
Joe Biden – 12
Elizabeth Warren – 7
Andrew Cuomo – 5
Martin O'Malley – 2
Democrats (without Clinton in the race)
Joe Biden – 43%
Elizabeth Warren – 17
Andrew Cuomo – 15
Martin O'Malley – 6
As readers can see, the poll numbers are remarkably similar to those covering the Democratic Presidential candidates in 2008. And as we all remember, newcomer Barack Obama surged past the 40-year political insider Hillary Clinton who was anointed and crowned the party's nominee by the American media years before the contest actually took place. That only lasted a short time until the not-so-unbiased press found a new political darling to campaign for, Barack Obama.
It's a historical fact that the American people simply do not like or trust Hillary Clinton. Throughout her career, her national 'unfavorable' poll numbers have always tied or outnumbered her 'favorable' totals. Voter support seems to be fueled by two things – the first woman President in US history and the patently GOP notion that Clinton's waited in line long enough and it's her turn to receive the Democratic nomination.
Never-ending Clinton scandals
With Hillary Clinton's unwavering support for Wall Street banks, a global empire, corporate welfare, the invasion of Iraq, and a host of other Republican agendas, America's progressives are feverishly searching for a Presidential nominee that isn't overshadowed by literally hundreds of scandals.
Remember Whitewater, Vince Foster, Communist Chinese bribes, dead Arkansas State troopers, Tammy Wynette, the co-Presidency, missing Rose Law firm records, travelgate, Benghazi, government spying, and the fact that when confronted with her own alleged corruption in a hearing before Congress, Hillary testified that she "didn't remember" or "didn't recall" 250 times? Because while Barack Obama never needed to remind voters of Hillary's scandal-plagued past, if the race is close, her 2016 opponents won't be so kind.
One final thought on Hillary Clinton comes from longtime Chicago reporters who've been acquainted with her family since she grew up just outside the city as a child. The Rodham family has deep roots in the Windy City and the whispers say that Hillary's decision to run for President hangs on Chelsea. Apparently, Hillary wants to be a grandma more than she wants to be President. If Chelsea gets pregnant, Clinton will retire.
Visit AmericanThinker.com for a brief list of Hillary Clinton's history of scandal.
Sen. Elizabeth Warren comments on run
With a scandal-plagued front-runner and a runner-up that doesn't seem very interested in the Oval Office, Senator Elizabeth Warren could very easily capture the Democratic Party nomination. A proven corruption-buster, the Massachusetts Senator has been understandably elusive in her intentions at this early date.
In an interview with Bloomberg News only four days ago, Sen. Elizabeth Warren was asked by the network's Stephanie Ruhle if there was any way she might run for President in 2016. Warren carefully evaded the question, insisting that she is not currently running right now.
Stephanie Ruhle: "Senator Warren, I know you've also said you wouldn't run for President. But I remember in 2006, Barack Obama also said that. Is there absolutely no circumstance when you, Senator Warren, would run to be President of the United States?"
Sen. Elizabeth Warren: "I am not running for President of the United States. I am working my heart out every day in this place, trying to be the best Senator I can, to fight for the people who are counting on us here."
So there you have it in Senator Warren's own words. She is "not running for President of the United States" – present tense. That puts her in the same category as Hillary Clinton, Chris Christie, Joe Biden and Rand Paul – who are also, "not running for President of the United States." But as far as we at Whiteout Press can see, not only is Senator Warren running for President, she's actually the odds-on favorite to win the Democratic nomination. You heard it here first.
Recent Whiteout Press articles:
Microsoft abandoning Windows XP, 3 in 10 PC users
Filmmakers need help making Edward Snowden Movie
Iceland's Random Republic overthrown by Corporations
Obama Administration issues Martial Law Directive