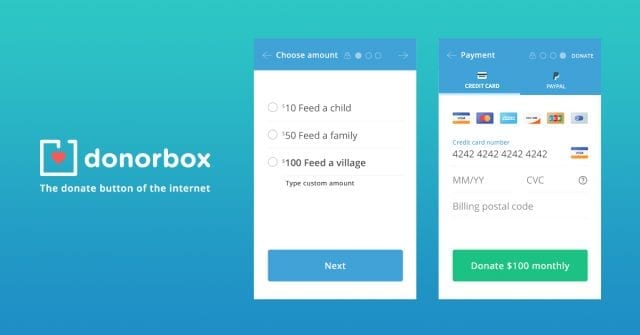 Donorbox.org is a simple, effective, and powerful fundraising software that makes it easy for nonprofit organizations, political organizations, and churches to collect more donations and build a relationship with their donors. To put it simply, it is a platform that helps a wide range of organizations to raise money for whatever objective or mission they have. It also supports different online payment methods such as, PayPal, Google and Apple Pay, or donations made from debit and credit cards, which makes the whole checkout process easy and quick.
It also provides various features that will allow users to increase their donation like setting up a recurring donation, encouraging other people to support the fundraising efforts, and match the donations that are given to employees to organizations that are eligible to receive them. Also, Donorbox allows users to promote their campaign on different social media platforms. They can embed the code to their website that will active donation forms as well. The donors will be assigned donor profiles, hence, it will be easy for them to manage and oversee the donation that they make. Also, the users will be provided with the information needed to answer custom questions, permitting the organization to gain insight about the donors.
This software makes sure that the users can follow the laws and tax regulation as they collect the donation. Donorbox allows them to generate tax receipts and forms that are compatible with the GDPR. Also, you will be able to gain analytical data which is useful for tracking the performance of your campaigns.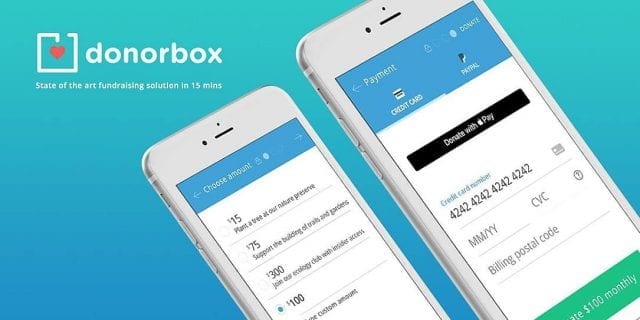 The Benefits of Donorbox
There are various benefits that you can get from using this website, such as:
1. Increased Donations by Offering Multiple Payment Methods and Systems
In order to collect more donations, it is important that organizations and people can send donations in different ways. This makes it easy for the donors to send the donations and at the same time, it makes it easy for organizations to collect them. As mentioned earlier, there are several ways of making donations and these options include PayPal, Google and Apple Pay, or donations made from debit and credit cards.
2. It is Easy to Set Up and Collect Recurring Donations
This fundraising software makes the process of setting up and collecting recurring donations easy. The donations can be made on a daily, weekly, monthly, or yearly basis. Hence, with Donorbox, users will be able to quickly make a recurring donation within this software without needing to register again and include additional information.
3. Perfect Integrations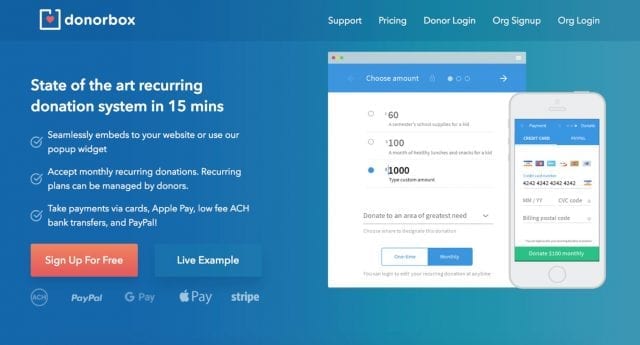 This program can also be integrated with different tools that are known to users like Salesforce, Zapier, and MailChimp. Hence, if the users' applications are built by using Zapier, they can integrate the features of Donorbox to it. Also, integrating this software with Salesforce will enable them to manage the engagements of the donor directly on Salesforce. And in case they need or want to reach donors through an automated email campaign, the MailChimp integration will give them a perfect opportunity.
Conclusion
As you can see there are various reasons why you should implement Donorbox to your website or application. It will make the whole process of receiving donations easier, more time-efficient, and more convenient for both you and your donors. Hence, do not waste any more time and download this software right away.