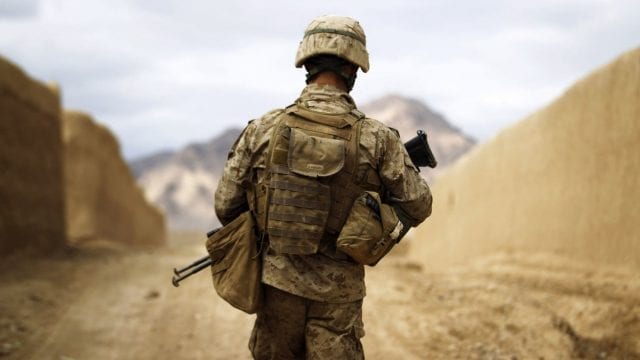 January 23, 2014
January 23, 2014. Butlerville, IN. Three weeks ago, the employee of a National Guard mercenary training school in Indiana was pulled over in Ohio. Found in his possession were a loaded AR-15, improvised explosive devices (IED), half-built bombs, raw explosives, and 58 bomb detonators. But rather than tout the fact that a massive terrorist act on US soil was foiled, authorities and the media are sweeping it under the rug. Why?
43-year-old Andrew Scott Boguslawski lives and works in south-central Indiana. But in the wee hours of New Year's Day, he was pulled over on Interstate 70 in Ohio an estimated 200 miles away. When the Ohio State Trooper asked the driver if he had any guns in his possession, Boguslawski blatantly lied. The officer had already seen the handle of a pistol sticking out from between the driver's legs.
From traffic stop to terrorist bust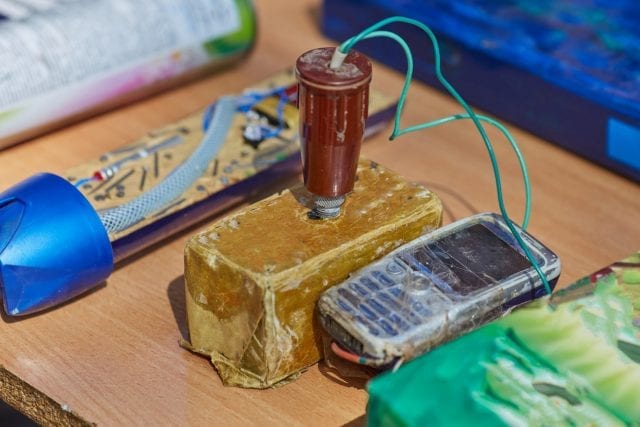 Imagine what the Ohio state trooper must have thought as he spent the darkened early morning hours of his New Year's Day in typical holiday fashion, protecting motorists from drunk drivers impaired from celebrating the new year only hours before. After observing a car speeding 85mph on a 70mph stretch of highway, the state trooper pulled the driver over.
After catching motorist Andrew Scott Boguslawski in a lie about not having any firearms in his car, the officer searched the rest of the vehicle. What he found could equip an entire Iraq or Afghan insurgent terror cell with enough explosives to kill thousands of innocent people. As detailed by BlackListed News and Business Insider, Boguslawski had in his possession:
– (1) loaded AR-15 assault rifle
– an undisclosed number of additional firearms
– (58) bomb detonators, including remote-controlled initiators
– (25) bombs
– (4) partially completed bombs
– 1.5 pounds of raw explosive material
– engineering schematics of Indiana's Muscatatuck Urban Training Center
Boguslawski was immediately taken into custody where he is currently being held on a $1 million bond. But while the national media is blacking out the story and authorities are treating it as just another good ole boy with a gun fetish, sharp-eyed independent journalists are seeing something else. They see another heavily-armed corporate mercenary traveling the streets of the US as if he were in Baghdad or Fallujah – just as they witnessed in the images taken before, during and after the Boston Marathon bombing.
Andrew Scott Boguslawski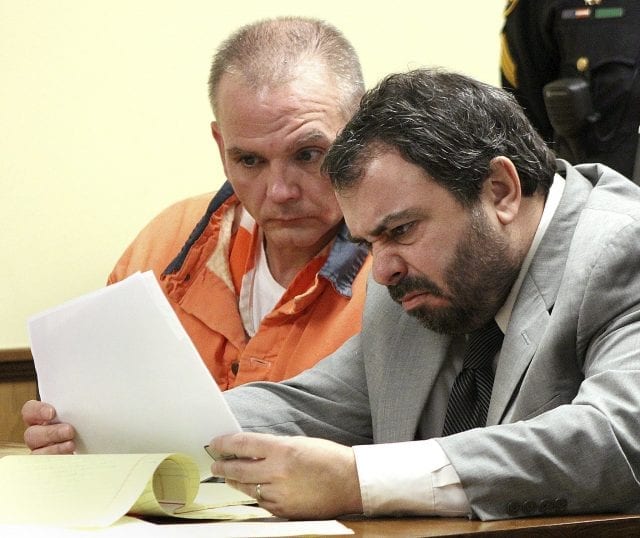 There have been so many discoveries about Boguslawski that the story seems to make less sense with each new revelation. That's one of the main reasons some skeptics believe there is more to this story than is being disclosed. According to local reports, he was employed as a groundskeeper at a noisy urban combat training school located on an Indiana Army National Guard base in Butlerville, Indiana.
The above-linked media accounts report that Boguslawski held a Top Secret security clearance from the US Army National Guard for his work as an intelligence analyst. But that begs the questions, why would the guy who cuts the facility's grass for a living have top-secret security clearance? And what is a simple data analyst doing with such a huge arsenal of bombs?
As reported by Business Insider, Ohio authorities are as curious about the man's motives and intentions as the rest of us. When asked about the $1 million bond, Madison County Asst. Prosecutor Nick Adkins told reporters, "I think there is a significant risk to the public. Until we can sort through the facts of this case and what we have here and what his intent was, it is necessary to keep the public safe."
The local police have been quoted in a number of media reports suggesting that it is their belief that Boguslawski was headed back to the Muscatatuck Urban Training Center – the military training facility operated by the Indiana Army National Guard that he worked as a groundskeeper at. Officials don't reveal if they came to that conclusion because of admissions by the accused or because engineering schematics of the facility were found in Boguslawski's possession at the time of his arrest.
Muscatatuck Urban Training Center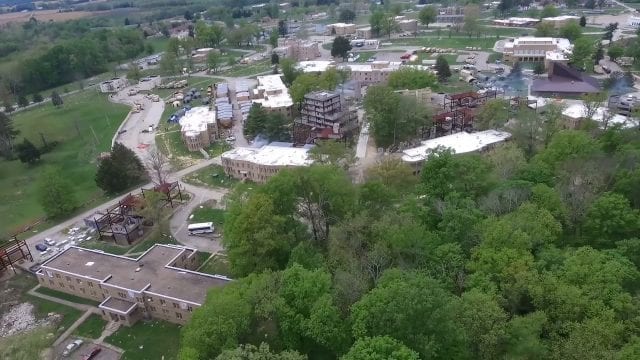 Describing the training facility's history, the Muscatatuck Urban Training Center's website recalls, 'From 1919 through 2005, the Muscatatuck State Developmental Center (MSDC) housed many of Indiana's challenged citizens and was once the largest employer in Jennings County. Now, the facility is being used by the Indiana Army National Guard (INARNG) as a premier urban training center for military and civilian first responder personnel.'
After 82 years of serving as a state medical institution, the vast multi-building campus was used by the Army National Guard from 2001 to 2005. In 2005 however, the state eliminated funding for it in a series of budget cuts leading up to the economic collapse of 2008. But the facility's administrators challenged the decision, appealing to the Indiana Historic Sites and Structures agency which had already declared 34 of MUTC's buildings historical landmarks. It has remained open on a smaller scale ever since.
News reports describe the Muscatatuck Urban Training Center (MUTC) as little more than a gun range on steroids. They describe how the facility offers firearms training courses to military and police personnel, but also regular citizens. But MUTC's own website conjures up an entirely different impression.
The training center describes itself writing, 'Welcome to the Interagency Afghanistan Integrated Civilian-Military Pre-Deployment Training Course, an initiative developed and implemented by an Interagency Working Group with representation from Department of Defense (DoD), Department of State (DoS), United States Department of Agriculture (USDA), and the US Agency for International Development (USAID).'
The question many are asking is, was this just another lone nut fueled by pharmaceutical drugs hell-bent on killing himself and everyone else like most of the incidents before? Or does his employment at a US military urban warfare training facility and his dual role as a groundskeeper and a spy have something to do with it? Perhaps we'll all get our answers when Boguslawski eventually goes on trial.