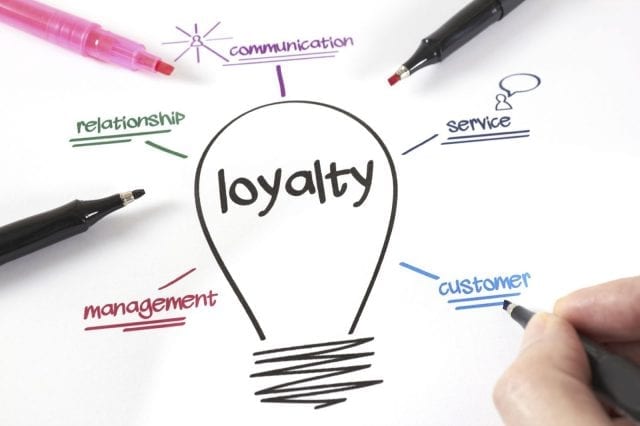 There are a variety of different types of loyalty programs, according to VIKTOR. If one doesn't fit the model that best describes how you run your business, there are many others to choose from. To keep customers and to keep customers happy, one of these 5 types of loyalty programs can help your business succeed.
The Spend Program
Spend loyalty programs work best for customers that visit a business on a monthly or even weekly basis. This can include businesses such as salons or airlines for frequent travelers. A spend loyalty program works by giving loyalty credits to the customers for the amount they spend in the business. This is a proven method that works to increase transaction amounts.
Pros:
This method has been proven to retain customers. It can lead to brand differentiation which is always good for easy recognition. Customer data is more easily collected by using the spend loyalty program.
Cons:
Customers must be repeat buyers. This type of loyalty program does not work for every business.
The Tiered Program
This type of loyalty program works best for companies that encourage a high commitment from their customers. Businesses who cater to customers buying long-term purchases or VIP subscriptions such as airways flying club or preferred guest program often benefit from the tiered loyalty program. By providing rewards and benefits on a tiered-level basis, customers spend more to reach the next height of reward or luxury benefit.
Pros:
This method of a loyalty program is flexible for the company. Because the levels are highly customizable, each individual company can create their own template. Many customers also appreciate the high-value experience that's brought to them through this particular reward system.
Cons:
Customer data is usually needed to make an informed decision on which levels need what services. Customers who are not already actively engaged might not be as inclined to buy into the tiered rewards program. A lot of customer and business communication is required for a successful tiered loyalty program.
The Point Program
According to this article of SleekNote, the point loyalty program works for almost any business. It is based on the premise that the more you spend, the more you receive. By spending in a brick and mortar or online store, a customer will receive a certain amount of points. After acquiring a specific amount of points, the customer is now eligible for a reward. This can be an actual gift or discount depending on how the company wants to operate.
Pros:
This is a very straight-forward and simple concept for customers to understand. Long explanations or lengthy instructions are not needed to get the basics of this loyalty reward program. Generally, this is a consistent reward benefit. What the customer spends is equal to the points they receive.
Cons:
There is usually no instant gratification for the customer when using this type of loyalty rewards program. Without an immediate pay-off, customers may be less likely to engage. The business must also keep track of their customers to avoid confusion and remind customers of their reward goals.
The VIP Member Club
VIP member clubs can include businesses like elite television programming or a hotel membership. This type of paid loyalty program involves a customer paying an annual or monthly fee. Their regular deposit guarantees access to special services or discounts that apply just to them. The exclusivity of joining this membership is what holds its value.
Pros:
The program can make people feel special. This is particularly good for brand awareness. If a company makes a customer feel uniquely special, they are more likely to talk about it with others. Loyalty retention is high for VIP club members who will continue paying for the preferential treatment they receive.
Cons:
A VIP program can be expensive for the company. Depending on the business model, this particular type of loyalty program may not work. For businesses with significant turnover who want to create brand awareness, the VIP loyalty program works best.
The Value-based Program
The value-based loyalty program works well for companies or businesses that help create an ethical contribution. Pet companies, humanitarian businesses, and even restaurants can all benefit from a value-based program. By donating a percentage of the customer's money to a cause related to the business, customers may return from finding a sense of deeper meaning in their purchase.
Pros:
The company is not only retaining customers but benefits organizations that matter. Because a customer is returning from a value-based position in their spending, they may be easier to form a long-lasting relationship with. The customer data is relatively easy to understand when targeting a specific segment of the population.
Cons:
This is a niche loyalty program that will not serve all businesses. Because of the highly targeted customer data, this approach will only work with some customers.
Conclusion
While all loyalty programs have their own set of guidelines, using more than one can work wonders for a company. A common combination that works for many businesses is a mixture of both the point-based system and tier-based system.
These loyalty programs work for several different types of businesses and are generally easy to understand. With minimal customer data collection needed, these programs can be implemented in a relatively short period of time. Regardless of how a business retains its customers, a loyalty program will ensure repeat business for the health and longevity of any company.