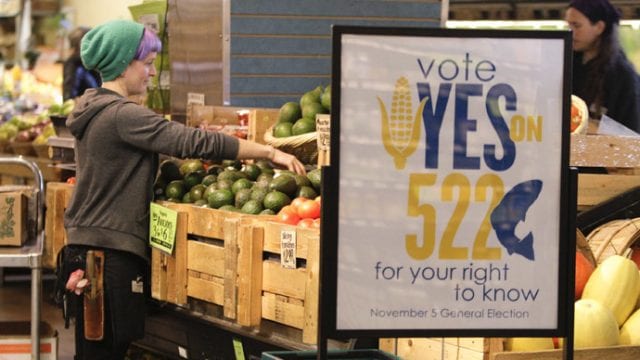 October 24, 2013. Seattle. The battle to require the labeling of genetically engineered foods has moved to Washington State. In 12 days, voters there will find a question on their ballot asking them to decide the issue. But just like last year's ballot initiative in California, corporate lobbyists are pouring millions into ads to convince voters that GMO labeling is bad. Supporters of the measure are outraged and say the PAC's are being allowed to break state laws.
Could Washington become the first state in America where voters force chemical and biotech corporations to label which grocery store foods have been genetically modified? We'll find out when Washington residents cast their ballots on Nov. 5th. That's when the state's voters will decide Proposition 522 – labeling GMO foods.
Here we go again
When poll results were released a few days ago, supporters of GMO food labeling must have felt their hearts sink. It's looking like California all over again. One year ago, almost to the day, California voters went to the polls to decide the very same question with their own Ballot Initiative. And unless you witnessed it with your own eyes as this author did, you wouldn't believe how the final days before the election went down.
As this author reported last year for another news outlet, 'Past surveys and polls of American consumers clearly show that as many as 90% support the labeling of genetically modified food. As detailed by the local Santa Cruz Sentinel, Prop 37 was leading in the polls with 67% support as recently as 9 days before the election. But by last Friday, 4 days before the election, support for Prop 37 had drastically dropped to just 42%. What Earth-shaking revelation was discovered that reversed surveys by 25% in just 5 days? Nothing. Instead, it was the result of a massive media buy, running thousands of 'Vote No on Prop 37' commercials on California radio and TV.'
Two days ago, Food Safety News published the results of the latest poll of voter sentiment regarding Ballot Initiative 522 – requiring food manufacturers to label genetically modified foods in the state of Washington. The results don't bode well for supporters of food safety and mandatory labeling. Just as in California, the tide has shifted in direct correlation with the onslaught of thousands of ads and millions in PAC dollars enlisted to defeat the measure.
'The state's only independent, non-partisan survey research firm, known as the Elway Poll, says its Oct. 15-17 interviews with 413 registered Washington State voters found there's been a dramatic 41-percent shift since last month in opinions about the ballot measure,' FSN reported Tuesday, 'Support for I-522 has gone down by 20 percent and opposition has grown by 21 percent.'
The poll results show that supporters of GMO labeling and those urging 'Yes on 522' still hold the narrowest of leads at 46-42 percent. But as the polling firm notes, 12% of voters are still undecided and the margin of error is 5%. That, they say, means the Ballot Initiative is, "too close to call."
Buying an election or enlightening voters?
The corporations opposing Washington's I-522 initiative have outraised the grassroots supporters of 522 by almost 300%. Multi-nationals like Monsanto, Coca-Cola, Nestle, Pepsi and a host of others have combined to raise $17.2 million. The parents and grassroots consumer rights activists who make up the 'Yes on 522' campaign have raised only $6.1 million, not necessarily a shabby amount. But up against the richest people on Earth, the residents in Washington may need a lot more than money.
Along with their $17.2 million, opponents of GMO labeling in Washington have also reportedly enjoyed the editorial support of the state's largest corporate news outlets, as well as a state-sponsored science association. With those resources, the out-of-state campaign donors opposing the initiative insist they are able to present the facts to voters. Supporters of food labeling say the corporations are misleading the public, buying the election and worst of all, breaking state campaign financing laws.
Consumer advocates outraged
Yesterday, the 'Yes on 522' campaign released a scathing announcement condemning a just-released court ruling that allows the corporate anti-labeling PAC's to continue using out-of-state funds from out-of-state donors. The statement includes the exact wording of Washington's campaign finance law to illustrate their argument, 'A political committee may make a contribution to another political committee only when the contributing political committee has received contributions of ten dollars or more each from at least ten persons registered to vote in Washington state.'
How many registered voters from Washington does the Grocery Manufacturers Association PAC have among its financial donors? None. Not a single Washington resident is counted among the list of corporate contributors to the GMA's political action committee. Yes on 522 organizers filed suit asking that the remaining $3.5 million in the PAC's $10 million out-of-state fund be bared from use in the last days before the election. But Judge Chris Wickham ruled against them, seemingly allowing the corporations to continue to violate the law.
"Once again the court system has failed to force the GMA and No on 522 campaign to follow the law. The AG and PDC must step in here and prevent these illegal funds from being spent and influencing the outcome of this election," said Delana Jones, campaign manager for Yes on 522, "We are disappointed with the Judge's decision. It is clear the GMA – the largest donor to the No on 522 campaign – broke the law, not once but multiple times now. Since they were forced by the Attorney General to properly disclose their donors last week, it has become clear they didn't have a single Washington donor. A PAC in Washington State must have at least 10 individual Washington donors and the GMA has none. Their donation of $7.2 million dollars is illegal and should be returned by the No on 522 campaign."
Battle lines drawn
With the disclosure of the Grocery Manufacturers Association's list of donors to its 'No on 522' anti-labeling campaign, it's become crystal clear who it is that makes up the people and groups fighting it out in the trenches and precincts of Washington State. Keep in mind, the GMA and its $7.2 million dollar corporate campaign fund include 34 of the world's largest multi-national corporations, but the GMA is just one of dozens of corporate powerhouses buying ads across the state to stop mandatory labeling of genetically engineered foods.
Below is the actual list of the people and corporations leading the fight on both sides of the I-522 ballot initiative. The list of grassroots activists supporting I-522 is from Food and Water Watch. The list of corporations fighting against GMO labeling is a combination of corporate PAC filings from last year's California GMO labeling initiative (compliments of Examiner.com), as well as the just-disclosed list of campaign donors to the Grocery Manufacturers Association PAC in Washington (compliments of EcoWatch.com).
Yes on 522
Require GMO labeling (from Food and Water Watch):
Cindy Black hails from Seattle and has been engaged on this issue from the beginning. Right after I-522 was certified by the Secretary of State, Cindy was ready to hit the ground running to drum up the grassroots support to ensure a win on GE food labeling in Washington State.
Sarah Stolar, also from Seattle, got involved very early on in the campaign as well. As a mother, she wants to know whether or not the food she is feeding her daughter has been genetically engineered and she knows she's not alone. She joined the fight to ensure that every mother has the right to choose whether or not to feed GE foods her children.
Rachel Tomczek in Redmond was a food activist even before I-522 came along. She knows that one of the most important ways to create a better food system is to get civically engaged, volunteer with groups advocating for a better food system, and to bring whatever special skills or passion that you personally have to the work that you're doing.
You can follow her activism at her own blog: http://foodspaces.blogspot.com/2013/01/the-journey-part-3.html.
Ryan Griffith hails from La Center and is a college student at Washington State University in Vancouver. He's been an ardent supporter of I-522 all along and is working hard on his college campus to educate young voters about the issue, making sure they are registered and that they don't forget to make history by voting yes on the GE food labeling initiative.
Sandy Cole is from Vancouver and she loves to use her time as a retiree to fish and fight for a better food system. She doesn't want to consume GE foods and she thinks everyone has a right to choose whether or not they do as well.
Temple Lentz is also from Vancouver and is finding time in addition to campaigning to become a freeholder for Clark County to support the Yes on 522 effort. Temple has created a name for herself in the regional blogosphere and she brings her talent, passion and connections to the campaign to demand GE food labeling in Washington State.
Roben White calls Vancouver home and has been growing his own food as well as canning it to be enjoyed year round for years. While he enjoys ensuring his own access to healthy local food and sharing it with his friends and family, he knows that this is not a model everyone can follow. He believes consumers have a right to know what's in the food they buy in the supermarket. Roben was also instrumental in Washington AFL-CIO's endorsement of I-522 and he brings years of progressive campaign experience in Southwest Washington to the Yes on 522 campaign.
Katy Wert joined the GMO food labeling fight in Vancouver by getting her employer at the time to endorse and support the Yes on 522 campaign. She has been supporting the campaign almost from the beginning by helping to get local businesses endorsing the GMO food labeling initiative because she knows that in addition to people-power we also need the support of businesses and local groups to push the campaign to victory.
The parents and local grassroots activists that make up the Yes on 522 campaign aren't exactly alone either. They've got their own army of organizations and corporations supporting Washington's ballot initiative. The list of corporations that have publicly endorsed or supported the Yes on 522 effort include 103 companies and businesses throughout the state. They include such well-known names as (from Yes on 522); Annies, Ben & Jerry's, Beechers, Chipotle Mexican Grill, Nature's Best, Stonyfield Farm, Uncle Matt's, and Whole Foods.
Their list of supporting and active grassroots consumer organizations is also pretty impressive. It includes 33 of the most battle-hardened activist groups in the nation including; AFL-CIO, the Center for Food Safety, the Consumers Union, Food and Water Watch, Greenpeace, the Green Party, International Brotherhood of Electrical Workers, Occupy Wall St., Sierra Club, the Teamsters, United Farm Workers, WA State Council of Firefighters, WA Farmers Market Assoc., and the WA Nurses Assoc.
No on 522
No GMO labeling (from Examiner.com & CA's 2012 ballot initiative):
MONSANTO COMPANY
E.I. DUPONT DE NEMOURS & CO.
PEPSICO, INC.
BASF PLANT SCIENCE
BAYER CROPSCIENCE
DOW AGROSCIENCES LLC
SYNGENTA CORPORATION
KRAFT FOODS GLOBAL, INC.
NESTLE USA, INC.
COCA-COLA NORTH AMERICA
GENERAL MILLS, INC.
CONAGRA FOODS
KELLOGG COMPANY
SMITHFIELD FOODS, INC.
DEL MONTE FOODS COMPANY
CAMPBELL SOUP COMPANY
*GROCERY MANUFACTURERS ASSOCIATION
*The Grocery Manufacturers Assoc. is funded by (from EcoWatch.com):
Pinnacle Foods Group LLC
The J. M. Smucker Company
Rich Products Corporation
General Mills, Inc.
PepsiCo, Inc.
Bunge North America, Inc.
Bumble Bee Foods, LLC
Bush Brothers & Company A
Moody Dunbar, Inc.
Dean Foods Company
Kellogg Company
Nestlé USA, Inc.
ConAgra Foods
Bimbo Bakeries USA
Welch Foods, Inc.
Knouse Foods Cooperative, Inc.
Bruce Foods Corporation
Abbott Nutrition
Campbell Soup Company
Del Monte Foods Company
Sunny Delight Beverages Company
Shearer's Foods, Inc.
Mondelez Global LLC
Land O'Lakes, Inc.
The Coca-Cola Company
The Hillshire Brands Company
The Hershey Company
Hormel Foods Corporation
Clement Pappas & Company, Inc.
McCormick & Company, Inc.
Ocean Spray Cranberries, Inc.
FlowersFoods, Inc.
Cargill, Inc.
The Clorox Company
With just 12 days left until voters in Washington State cast their votes, parents and consumer safety activists are justifiably nervous. Due to the massive influx of millions of dollars in anti-labeling ads throughout the state, polls clearly show momentum rapidly swinging to the side of the globe's multi-national corporations. Can the under-funded but fiercely passionate supporters of GMO labeling hold off the last-minute push and avoid a repeat of their defeat in California? We'll know in 12 days.