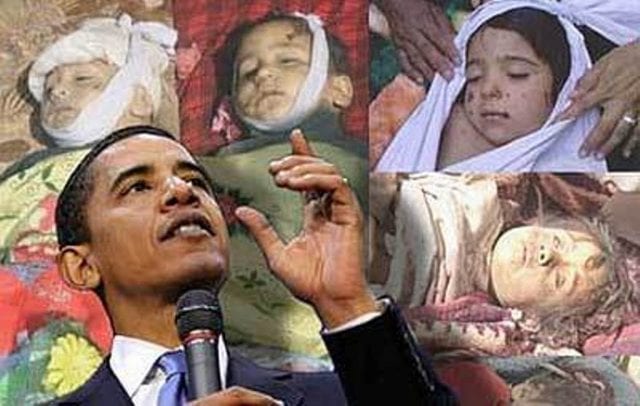 December 20, 2012. Newtown. Numerous videos have been released in the last few days in response to calls for gun control and the tragic shooting in Connecticut last week. The shocking, graphic and detailed efforts attempt to show the hypocrisy of the Obama administration. Using the President's Sandy Hook Elementary speech in one and his military drone speeches in another, the producers list 178 children killed by drone strikes personally ordered by President Obama, with pictures. It's tragic, touching, and controversial.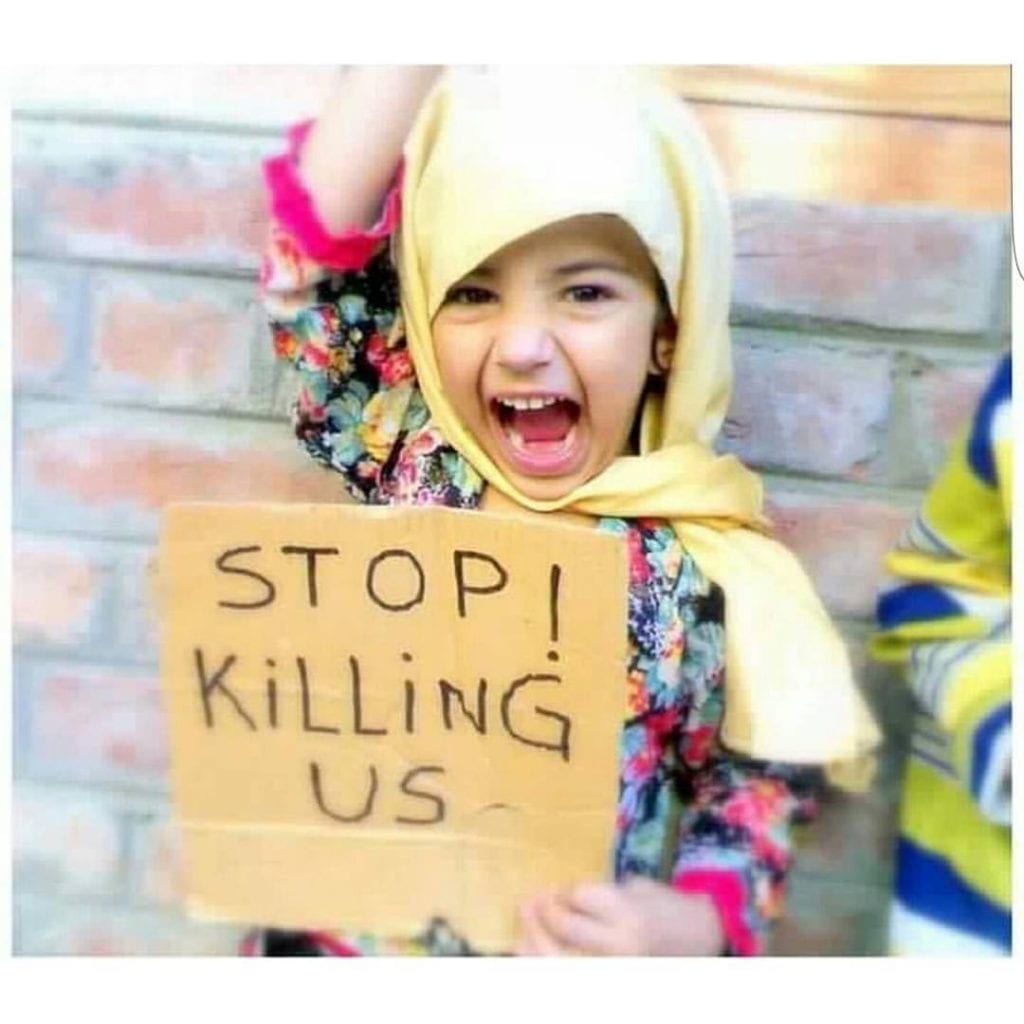 'Dear Drone People…' image courtesy of NotMyTribe.com.
Child Casualties as a Result of US Drone Strikes
University of Michigan professor Juan Cole recently produced a documentary detailing the often forgotten innocent victims in America's war on terror – the children. In this short video distributed by WarCosts.com, the video's producer assembles this 1.5 minute pictorial scrap book showing the images of many of the 178 children killed by US and NATO drone strikes, personally signed for by President Obama since he took office. Some of the pictures are 'before' shots, some 'after'. Warning, many are hauntingly gruesome.
Sandy Hook and Obama Drone Strikes
As recently as today, additional videos detailing President Obama's lethal drone strikes upon children have been released by other grassroots organizations and activists. Among them is a 13-minute video from Alex Jones and Infowars. The Infowars video includes a 9-minute video produced by another source which overlays President Obama's Sandy Hook gun control speech with global headlines detailing the 178 children killed by US drone strikes.
"Warning, viewer discretion is advised," Alex Jones begins the Infowars video, "You are going to see the evidence that President Obama knowingly and consciously orders the murder of men, women and children, signs death orders for entire weddings. Or village gatherings are bombed by drones and other aircraft, knowing that children would be killed, and simply calling them collateral damage."
Warning his readers, listeners and viewers that they should watch this video before it's banned by YouTube, Jones says, "YouTube will allow images of dead children when it's in mainstream news…Now, we're not allowed to see the flag-draped coffins. Now, unless it's mainstream news, we can't show you the images of these dead children. So make no mistake, it will be flagged. It will be blocked. It will be banned."
Video Courtesy of Infowars.com.
The following newspaper headlines and accompanying pictures are silently overlayed, one at a t time, over the video and audio of President Obama's Sandy Hook Elementary speech. Transcribed from the above Infowars video:
Policymic: 'Is America Like Adam Lanza? U.S. Drone Strikes Have Killed 176 Children in Pakistan Alone'
Guardian: 'Jan 23, 2009: President Obama's first drone strike killed between 7 and 15 people, including 1 child (Pakistan)'
Salon: 'Jan 23, 2009: Second strike of the day killed between 5 and 8 people, including 3 children (Pakistan)'
NY Times: 'Feb 14, 2009: Two missiles fired from a US drone killed more than 30 people, including an 8-year old boy (Pakistan)'
AFP/Google News: 'Apr 4, 2009: A suspected US drone killed 13 people in Datta Khel, including up to 4 children and 3 women (Pakistan)'
TheBureauInvestigates.com: 'Aug 21, 2009: Up to 21 people were killed, including 3 women and 6 children (Pakistan)'
Dawn.com: 'Sep 8, 2009: 12 people were killed in the 2nd drone attack in 24 hours, including 2 women and 3 children (Pakistan)'
Dawn.com: 'Jan 3, 2010: A US drone attack killed 5 people Sunday, including a 9-year-old boy named Wajid (Pakistan)'
NYY: 'Jan 8, 2010: A US drone destroyed a car killing 4 men standing next to it. Next door was 3-year old Ayeesha (Pakistan)'
Former US Pres. Jimmy Carter: 'Dec 9, 2012: I personally think we do more harm than good by having our drones attack some potential terrorists who have not been tried or proven that they are guilty. But in the meantime, the drone attacks also kill women and children, sometimes in weddings…so this is the kind of thing we should correct.'
TheBureauInvestigates.com: 'Feb 24, 2010: 10-year-old Naila was at home reciting the Quran when the strike hit. She died on the spot (Pakistan)'
TBIJ: 'Mr 31, 2010: 6 people were reported killed and 2 injured in an attack on a former school (Pakistan)'
NY Post: 'Apr 12, 2010: 13 people were killed Monday when a US drone struck the village of Boya (Pakistan)'
Unknown: 'May 21, 2010: 4 children – including Fatima, Nisar and Naeem Khan – were killed when a drone hit Mohammad Khel (Pakistan)'
Unknown: 'Aug 23, 2010: 3 children became orphans. Their father, Bismullah. Their mother. Their brothers. All killed. (Pakistan)'
NY Times: 'Sep 8, 2010: 4 children reported dead when missiles hit a house. US official: no civilians killed since May (Pakistan)'
WikiLeaks: 'Dec 1, 2010: cable corroborates evidence of US airstrikes in Yemen. Al-Ma'jalah, Abyan, was hit by a cruise missile on 17 December 2009…41 local residents, including 14 women and 21 children, and 14 alleged al-Qa'ida were killed in the attack (Yemen)'
Democracy Now: 'Mar 3, 2011: NATO Gunships Kill 9 Afghan Children; 3rd Reported Attack on Afghan Civilians in 2 Weeks (Afghanistan)'
Sky News: 'Aug 10, 2011: Libya: Nato Bomb 'Kills Dozens Of Children' Among the dead were 33 children, 32 women and 20 men (Libya)'
Agence France-Presse: 'Jun 19, 2011: Libyan gov't claims 'barbaric' NATO raid killed civilians, children. Libyan officials revealed nine bodies, five from the same family including two toddlers (Libya)'
The Guardian: 'Jun 20, 2011: Libya says new Nato missile attack killed three children (Libya)'
Reuters: 'Feb 13, 2012: NATO says found Afghan children dead after air strike (Afghanistan)'
The Daily Mail: 'Mar 11, 2012: Taliban vows revenge after U.S. Sergeant on SEAL team 'shoots dead nine sleeping Afghan children before burning their bodies' in deadly rampage that killed 16 (Afghanistan)'
NY Times: 'Oct 23, 2012: 4 Children Killed in Afghanistan Firefight (Afghanistan)'
NBC News: 'Dec 17, 2012: Afghan family, including six children, killed in NATO air strike (Afghanistan)'
Associated Press: 'Jun 20, 2011: Libya Says NATO Bombed Residential Area In Tripoli, Killed Civilians (Libya)'
NY Times: Not Dated: 'Team America Kills Five Kids in Marja (Afghanistan)'
The Daily Mail: Not Dated: '"Did we just kill a kid?": The moment drone operator who assassinated Afghans with the push of a button on a computer in the U.S. realized he had vaporized a child…and could not go on (Afghanistan)'
LA Times: 'Jun 13, 2012: Rising numbers of children hurt, killed in Afghan conflict, UN says (Afghanistan)'
United Nations: Not Dated: '346 Afghan children killed in 2009, more than half by NATO. 131 children were killed in airstrikes, while 22 were killed in nighttime raids by international special forces (Afghanistan)'
The Atlantic: 'Oct 24, 2012: How Team Obama Justifies the Killing of a 16-Year-Old American'
AlterNet: 'Oct 24, 2012: A 'Kill List' on Steroids: Obama Administration Expands Drone Assassinations to Wage 'Permanent War''
The final minutes of the video from Infowars contains additional headlines warning about a possible government move to outlaw guns. One segment even showed 'before' and 'after' pictures of a Libyan main street. The image before looks like a prosperous, clean city. The image after looks like a devastated war zone. The headline reads, 'Libya Before and After Image Shows What a NATO/UN Humanitarian Mission Looks Like'.
As mentioned earlier, the video is a silent collage of images and headlines, interspersed within President Obama's Newtown, Connecticut speech. The final moment is as impactful as it is controversial. But it solidifies the argument that the President is a hypocrite. In the closing seconds, when President Obama begins reading the names of children killed at Sandy Hook Elementary, the video's producer simultaneously drops in images of children killed by US drone strikes.
Is it hypocrisy for President Obama to mourn the tragic murder of children in Connecticut, while simultaneously, knowingly killing innocent children in countries across the globe? That answer seems to be as hotly debated as the issue of gun control and drone strikes.
To sign a petition urging Congress to demand accountability for child deaths resulting from drone strikes, visit WarCosts.com.