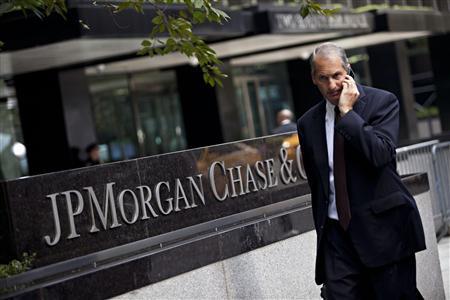 June 22, 2011. Washington. The SEC announced yesterday that the agency had reached a settlement with JP Morgan Chase over its involvement in the US housing meltdown. Without admitting or denying the allegations, JP Morgan consented to the final judgment.
In the agreement, the company will accept an injunction baring it from violating the Securities Act of 1933, or in other words, a promise that they won't do it again. In addition, JP Morgan will have to pay back $153.6 million dollars, or less than one percent of its 2010 profits – less than one penny on the dollar. To put it in perspective, it's the equivalent of two and a half days worth of company profits.
Those were the ratios and statistics released by Associated Press immediately after the settlement was announce. AP points out that JP Morgan now joins other well known financial institutions like Goldman Sachs who agreed to a similar agreement with the Securities and Exchange Commission last year. Both companies were accused of defrauding their investors by selling them investments without disclosing the fact that the firms that created those specific funds, had a vested financial interest in those funds failing.
The list of financial institutions accused of wrongdoing in the US housing collapse by the SEC continues to grow. It now includes:
Goldman Sachs, JP Morgan, Bank of America, Charles Schwab, State Street, TD Ameritrade, Wachovia, Citigroup, Countrywide, American Home Mortgage, IndyMac Bancorp, New Century and other lesser known corporations. This brings the total number of firms and individuals charged with criminal wrongdoing related to the housing collapse to 66, including 32 senior corporate executives.
In JP Morgan's case, the SEC explained the charge in detail. "J.P Morgan marketed highly-complex CDO investments to investors with promises that the mortgage assets underlying the CDO would be selected by an independent manager looking out for investor interests," said Robert Khuzami, Director of the Division of Enforcement. "What J.P. Morgan failed to tell investors was that a prominent hedge fund that would financially profit from the failure of CDO portfolio assets heavily influenced the CDO portfolio selection. With today's settlement, harmed investors receive a full return of the losses they suffered."
According to the SEC's complaint against J.P. Morgan filed in U.S. District Court for the Southern District of New York, the CDO known as Squared CDO 2007-1 was structured primarily with credit default swaps referencing other CDO securities whose value was tied to the U.S. residential housing market. For more information on this practice and its participation in the US housing collapse, read the Whiteout Press article 'The American Housing Meltdown – How? Why?'.
Also per the SEC suit, J.P. Morgan sold approximately $150 million of so-called "mezzanine" notes of the Squared CDO's liabilities to more than a dozen institutional investors who lost nearly their entire investment. These investors included:
Thrivent Financial for Lutherans, a faith-based non-profit membership organization in Minneapolis.
Security Benefit Corporation, a Topeka, Kan.-based company that provides insurance and retirement products.
General Motors Asset Management, a New York-based asset manager for General Motors pension plans.
Financial institutions in East Asia including Tokyo Star Bank, Far Glory Life Insurance Company Ltd., Taiwan Life Insurance Company Ltd., and East Asia Asset Management Ltd.
With the announcement of the settlement, defrauded investors in this particular financial fund will be reimbursed for all their losses. Separately, this agreement doesn't apply to the numerous other funds JP Morgan bet against while simultaneously misleading their investors and convincing them to invest in the doomed financial instruments. Stay tuned to WhiteoutPress.com for updated coverage.