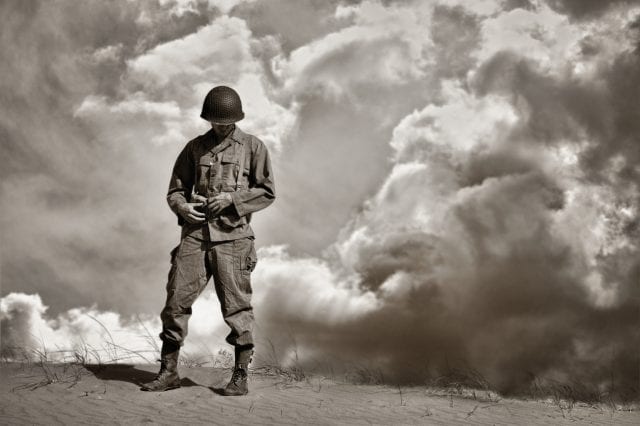 With the world inching closer to war, many historians, Biblical scholars and fans of Nostradamus are pointing to the current Middle East conflict between Israel and Iran. Global alliances could quickly turn a 2-nation war into a regional war, and then into a world war. How would the US fair and who would be on our side? We divided the world based on current alliances to see how the two sides match up and who has the edge.
The following battle lines were researched and chosen exclusively by Whiteout Press. We used a number of criteria to make our decision for each nation. Among the items we considered were; current military alliances, religious affiliations, historical alliances, ethnic ties, trade relations and statements by national leaders right out of today's headlines.
Judaism vs. Islam, Christian civil war
As the world map is laid out, one of the trends we immediately notice is that the former Soviet nations and their Eastern Orthodox Christian faith will follow-up on their current promise and come to the aid of their Islamic allies in any war against the United States. With the Soviets come the global Communists, including some right in America's backyard.
The Neutrals
It is inevitable that many nations will attempt to remain neutral. But in the global world we live in, there is no such thing as neutrality. Nations that can't fight for or buy their neutrality, like India and Switzerland, will simply be used like pawns in a chess game by the world's superpowers. We did take history into account and countries like Nepal, Nigeria and Sweden who have always fought for and won their neutrality during regional wars are labeled as neutral again here.
Other neutral countries are marked that way for a different reason. Some countries around the globe are so devastated and disoriented by current civil wars, they have no functioning government able to take any side. Some might conclude that a few of these civil wars are the first wave of the possible coming World War 3. In many instances, the wars are between militant Christians and Islamic Jihadists.
The numbers and statistics
We've left out nuclear weapons capabilities, as well as chemical and biological weapons. Nations don't typically disclose their actual arsenal and half the nuclear-armed countries still don't acknowledge they have the weapons of mass destruction. Another reason to leave them off the list is pure wishful thinking. For if World War 3 is in fact a nuclear war instead of a conventional war, there will be nobody left to read these words anyway.
In the cases of some small nations without any military or published information, we had to make our best guess. Most all statistics however come from each respective nation's published data or one of the following sources:
CIA Fact Book
While the below map, numbers and accompanying list of allied nations is purely the result of the research of Whiteout Press, it shouldn't be too far off from reality.
Population numbers for each nation are readily available, while even the number of standing military soldiers is a typically known figure across the globe. For 'Land' weapons, we tried to limit the number to tanks, heavy artillery, missile systems and similar offensive weapons. For 'Air Force', we included all military aircraft with attack capability.
'Navy' was trickier. Many nations have no access to the open ocean and instead use their small and medium sized vessels to rule the rivers that divide their continent. For ocean-faring, large powers, we used the number of warships typically from the frigate class and up. For smaller nations with no large warships but a small, armed navy, we included their armed trawlers, cannon-mounted speed boats, etc.

Summary
| | | | | | |
| --- | --- | --- | --- | --- | --- |
| | Population | Soldiers | Land | Air Force | Navy |
| Iran and Allies | 3,252,030,954 | 12,460,680 | 396,352 | 23,352 | 3,622 |
| Israel and Allies | 2,154,805,585 | 8,029,844 | 343,108 | 42,949 | 5,860 |
| India and Neutrals | 1,511,454,436 | 1,933,686 | 89,457 | 3,069 | 634 |
Iran and Allies
| | | | | | |
| --- | --- | --- | --- | --- | --- |
| Country | Population | Soldiers | Land | Air Force | Navy |
| Afghanistan | 29,835,392 | 150,000 | 2,558 | 125 | 0 |
| Albania | 2,994,667 | 16,000 | 1,000 | 100 | 0 |
| Algeria | 34,994,937 | 435,000 | 5,134 | 440 | 41 |
| Angola | 13,338,541 | 130,500 | 1,500 | 8 | 7 |
| Armenia | 2,967,975 | 49,000 | 300 | 14 | 0 |
| Bangladesh | 158,570,535 | 100,000 | 1,000 | 500 | 25 |
| Belarus | 9,577,552 | 73,000 | 4,000 | 300 | 0 |
| Bolivia | 10,118,683 | 55,500 | 750 | 8 | 125 |
| Brunei | 401,890 | 5,000 | 100 | 30 | 15 |
| Bulgaria | 7,093,635 | 30,000 | 7,500 | 480 | 85 |
| Burkina Faso | 16,751,455 | 40,000 | 4,000 | 26 | 0 |
| Burma | 53,999,804 | 492,000 | 11,000 | 240 | 125 |
| Cambodia | 14,701,717 | 150,000 | 2,800 | 10 | 190 |
| Chad | 10,758,945 | 30,350 | 1,500 | 20 | 0 |
| China | 1,336,718,015 | 2,285,000 | 22,795 | 4,092 | 562 |
| Comoros | 794,683 | 500 | 0 | 10 | 2 |
| Republic of Congo | 4,243,929 | 65,000 | 200 | 20 | 15 |
| Costa Rica | 4,576,562 | 1,000 | 0 | 0 | 0 |
| Cuba | 11,087,330 | 38,000 | 6,400 | 140 | 30 |
| Cyprus | 1,120,489 | 12,000 | 300 | 25 | 10 |
| Djibouti | 757,074 | 12,000 | 12 | 2 | 4 |
| Ecuador | 15,007,343 | 35,000 | 350 | 85 | 20 |
| Egypt | 82,079,636 | 468,500 | 48,740 | 884 | 221 |
| Eretria | 5,939,484 | 250,000 | 1,400 | 110 | 30 |
| Ethiopia | 90,873,739 | 182,500 | 3,098 | 703 | 0 |
| Gambia | 1,797,860 | 3,500 | 10 | 5 | 6 |
| Palestine | 4,279,699 | 50,000 | 0 | 0 | 0 |
| Guinea | 10,601,009 | 22,000 | 60 | 10 | 3 |
| Guinea-Bissau | 1,596,677 | 5,000 | 65 | 6 | 2 |
| Haiti | 9,719,932 | 22,000 | 30 | 10 | 2 |
| Indonesia | 245,613,043 | 438,410 | 1,577 | 510 | 136 |
| Iran | 77,891,220 | 545,000 | 12,393 | 1,030 | 261 |
| Iraq | 30,399,572 | 276,600 | 5,344 | 1,139 | 15 |
| Jordan | 6,508,271 | 100,700 | 12,212 | 711 | 26 |
| Kazakhstan | 15,522,373 | 80,000 | 2,900 | 365 | 9 |
| North Korea | 24,457,492 | 1,106,000 | 20,692 | 1,650 | 708 |
| Kosovo | 1,825,632 | 2,500 | 0 | 0 | 0 |
| Kyrgyzstan | 5,587,443 | 15,500 | 550 | 115 | 0 |
| Laos | 6,477,211 | 29,100 | 50 | 24 | 16 |
| Lebanon | 4,143,101 | 60,000 | 5,785 | 100 | 50 |
| Libya | 6,597,960 | 119,000 | 6,844 | 480 | 21 |
| Macedonia | 2,077,328 | 10,000 | 220 | 8 | 0 |
| Mali | 14,159,904 | 12,150 | 720 | 17 | 0 |
| Mauritania | 3,281,634 | 20,870 | 540 | 2 | 10 |
| Moldova | 4,314,377 | 11,800 | 400 | 40 | 0 |
| Mongolia | 3,133,318 | 70,000 | 1,430 | 47 | 0 |
| Montenegro | 661,807 | 3,200 | 30 | 0 | 2 |
| Morocco | 31,968,361 | 175,000 | 2,875 | 125 | 17 |
| Mozambique | 22,948,858 | 50,000 | 1,130 | 12 | 6 |
| Nicaragua | 5,666,301 | 12,000 | 300 | 34 | 8 |
| Oman | 3,027,959 | 39,800 | 340 | 55 | 7 |
| Pakistan | 187,342,721 | 617,000 | 16,461 | 1,414 | 11 |
| Romania | 20,298,580 | 75,000 | 1,800 | 48 | 20 |
| Russia | 138,739,892 | 1,200,000 | 91,715 | 2,749 | 233 |
| Senegal | 12,643,799 | 19,000 | 160 | 3 | 9 |
| Serbia | 7,310,555 | 40,000 | 640 | 128 | 0 |
| Sierra Leone | 5,363,669 | 8,500 | 2 | 5 | 2 |
| Singapore | 4,740,737 | 72,000 | 8,000 | 422 | 47 |
| Somalia | 9,925,640 | 24,000 | 180 | 6 | 6 |
| Sri Lanka | 21,283,913 | 149,000 | 1,200 | 80 | 50 |
| Sudan | 45,047,502 | 104,000 | 5,600 | 240 | 2 |
| Syria | 22,517,750 | 304,000 | 25,406 | 830 | 19 |
| Tajikistan | 7,627,200 | 11,000 | 76 | 4 | 0 |
| Tanzania | 47,746,620 | 27,000 | 296 | 22 | 7 |
| Togo | 6,771,993 | 20,000 | 110 | 12 | 2 |
| Tunisia | 10,629,186 | 45,000 | 900 | 47 | 25 |
| Turkmenistan | 4,997,503 | 34,000 | 1,100 | 87 | 0 |
| Ukraine | 45,134,707 | 159,000 | 20,780 | 1,003 | 70 |
| United Arab Emirates | 5,148,664 | 65,000 | 1,100 | 200 | 72 |
| Uzbekistan | 28,128,600 | 55,000 | 950 | 245 | 0 |
| Venezuala | 27,635,743 | 155,000 | 2,084 | 306 | 50 |
| Vietnam | 91,519,289 | 455,000 | 6,600 | 258 | 120 |
| Western Sahara | 522,928 | 6,200 | 20 | 0 | 0 |
| Yemen | 24,771,809 | 401,000 | 7,968 | 350 | 65 |
| Zimbabwe | 12,619,600 | 29,000 | 270 | 26 | 0 |
| | | | | | |
| Iran and Allies | 3,252,030,954 | 12,460,680 | 396,352 | 23,352 | 3,622 |
Israel and Allies
| | | | | | |
| --- | --- | --- | --- | --- | --- |
| Country | Population | Soldiers | Land | Air Force | Navy |
| Antarctica | 4,490 | 0 | 0 | 0 | 0 |
| Argentina | 41,769,726 | 73,100 | 4,241 | 463 | 42 |
| Australia | 21,766,711 | 57,500 | 3,259 | 374 | 53 |
| Austria | 8,217,280 | 40,000 | 400 | 40 | 0 |
| Azerbaijan | 8,372,373 | 86,000 | 1,200 | 150 | 30 |
| Belgium | 10,431,477 | 44,500 | 1,042 | 198 | 20 |
| Belize | 321,115 | 1,000 | 10 | 5 | 13 |
| Bhutan | 708,427 | 6,000 | 0 | 0 | 0 |
| Botswana | 2,065,398 | 9,000 | 100 | 40 | 0 |
| Brazil | 203,429,773 | 371,199 | 6,395 | 1,061 | 100 |
| Burundi | 10,216,190 | 40,000 | 750 | 30 | 25 |
| Canada | 34,030,589 | 67,756 | 5,106 | 544 | 33 |
| Cayman Isles | 51,384 | 0 | 0 | 0 | 0 |
| Chile | 16,888,760 | 86,000 | 2,674 | 315 | 68 |
| Colombia | 44,725,543 | 200,000 | 1,400 | 150 | 50 |
| Ivory Coast | 21,504,162 | 20,000 | 0 | 8 | 5 |
| Croatia | 4,483,804 | 20,000 | 240 | 115 | 35 |
| Curacao | 142,180 | 100 | 0 | 0 | 0 |
| Czech Republic | 10,190,213 | 20,000 | 850 | 135 | 0 |
| Denmark | 5,529,888 | 22,000 | 2,000 | 202 | 74 |
| Dominican Rep. | 9,956,648 | 44,000 | 400 | 40 | 25 |
| Dominica | 72,969 | 100 | 10 | 0 | 0 |
| El Salvador | 6,071,774 | 18,000 | 475 | 15 | 4 |
| Ecuatorial Guinea | 668,225 | 1,800 | 65 | 20 | 10 |
| Estonia | 1,282,963 | 18,000 | 180 | 18 | 40 |
| Fiji | 883,125 | 3,500 | 4 | 0 | 9 |
| Finland | 5,259,250 | 34,700 | 2,300 | 165 | 30 |
| France | 65,312,249 | 362,485 | 10,621 | 1,757 | 289 |
| Gabon | 1,576,665 | 5,000 | 220 | 33 | 12 |
| Georgia | 4,585,874 | 37,000 | 3,628 | 654 | 9 |
| Germany | 81,471,834 | 148,996 | 4,539 | 783 | 90 |
| Ghana | 24,791,073 | 7,000 | 10 | 10 | 8 |
| Greece | 10,760,136 | 177,600 | 44,500 | 741 | 133 |
| Greenland | 57,670 | 100 | 0 | 0 | 0 |
| Grenada | 108,419 | 100 | 0 | 0 | 5 |
| Guatemala | 13,824,463 | 15,500 | 75 | 25 | 10 |
| Guyana | 744,768 | 3,200 | 30 | 5 | 1 |
| Honduras | 8,143,564 | 20,000 | 225 | 35 | 15 |
| Hungary | 9,976,062 | 26,000 | 800 | 45 | 0 |
| Iceland | 311,058 | 250 | 0 | 4 | 3 |
| Ireland | 4,670,976 | 10,000 | 32 | 6 | 5 |
| Israel | 7,473,052 | 187,000 | 12,552 | 1,964 | 64 |
| Italy | 61,016,804 | 293,202 | 12,185 | 1,004 | 180 |
| Jamaica | 2,868,380 | 12,000 | 12 | 0 | 5 |
| Japan | 126,475,664 | 239,430 | 5,220 | 1,953 | 110 |
| Kenya | 41,070,934 | 24,200 | 300 | 57 | 6 |
| South Korea | 48,754,657 | 653,000 | 13,361 | 1,568 | 170 |
| Kuwait | 2,595,628 | 20,000 | 600 | 60 | 2 |
| Latvia | 2,204,708 | 4,300 | 10 | 5 | 10 |
| Liberia | 3,786,764 | 2,100 | 5 | 0 | 0 |
| Lithuania | 3,535,547 | 14,500 | 75 | 5 | 6 |
| Madagascar | 21,926,221 | 13,500 | 50 | 10 | 13 |
| Malawi | 15,879,252 | 5,300 | 25 | 3 | 3 |
| Malaysia | 28,728,607 | 124,000 | 2,465 | 258 | 65 |
| Mexico | 113,724,226 | 259,770 | 4,286 | 431 | 189 |
| Namibia | 2,147,585 | 8,000 | 120 | 18 | 1 |
| Netherlands | 16,847,007 | 61,000 | 1,450 | 235 | 36 |
| New Zealand | 4,290,347 | 9,700 | 20 | 25 | 17 |
| Niger | 16,468,886 | 5,300 | 10 | 2 | 0 |
| Norway | 4,691,849 | 26,200 | 2,164 | 136 | 70 |
| Panama | 3,460,462 | 11,000 | 20 | 0 | 4 |
| Papua New Guinea | 6,187,591 | 2,100 | 0 | 0 | 2 |
| Paraguay | 6,459,058 | 12,500 | 20 | 8 | 17 |
| Peru | 28,302,603 | 120,000 | 1,100 | 90 | 35 |
| Philippines | 101,833,938 | 120,000 | 2,379 | 289 | 120 |
| Poland | 38,441,588 | 100,000 | 7,259 | 555 | 80 |
| Portugal | 10,735,765 | 44,000 | 358 | 50 | 20 |
| Bahrain | 1,214,705 | 9,000 | 200 | 40 | 40 |
| Qatar | 848,016 | 11,800 | 760 | 92 | 86 |
| Saudi Arabia | 26,131,703 | 233,500 | 8,574 | 1,200 | 77 |
| Slovakia | 5,477,038 | 14,000 | 500 | 45 | 0 |
| Slovenia | 2,000,092 | 7,600 | 165 | 15 | 2 |
| South Africa | 49,004,031 | 74,000 | 7,186 | 231 | 53 |
| South Sudan | 8,260,490 | 22,000 | 200 | 4 | 0 |
| Spain | 46,754,784 | 177,000 | 3,241 | 716 | 95 |
| Suriname | 491,989 | 2,200 | 0 | 3 | 0 |
| Swaziland | 1,370,424 | 3,000 | 10 | 4 | 0 |
| Taiwan | 23,071,779 | 290,000 | 14,750 | 837 | 118 |
| Thailand | 66,720,153 | 305,860 | 4,392 | 913 | 164 |
| Trinidad/Tobago | 1,227,505 | 4,000 | 20 | 4 | 3 |
| Turkey | 78,785,848 | 612,900 | 69,774 | 1,940 | 265 |
| Uganda | 34,612,250 | 45,000 | 850 | 20 | 0 |
| United Kingdom | 62,698,362 | 224,500 | 11,630 | 1,663 | 99 |
| United States | 313,232,044 | 1,477,896 | 56,269 | 18,234 | 2,384 |
| Uruguay | 3,308,535 | 24,000 | 475 | 30 | 3 |
| Zambia | 14,309,466 | 22,000 | 285 | 46 | 0 |
| | | | | | |
| Israel and Allies | 2,154,805,585 | 8,029,844 | 343,108 | 42,949 | 5,860 |
India and Neutrals
| | | | | | |
| --- | --- | --- | --- | --- | --- |
| Country | Population | Soldiers | Land | Air Force | Navy |
| Benin | 9,325,032 | 4,800 | 180 | 15 | 2 |
| Bosnia/Herzegovina | 4,622,163 | 11,000 | 1,000 | 16 | 0 |
| Cameroon | 19,711,291 | 40,000 | 2,000 | 50 | 50 |
| Central African Rep. | 4,950,027 | 7,500 | 150 | 10 | 0 |
| Dem. Rep. of Congo | 71,712,867 | 130,000 | 3,900 | 0 | 0 |
| Nigeria | 155,215,573 | 80,000 | 870 | 63 | 20 |
| Rwanda | 10,624,005 | 70,000 | 344 | 8 | 0 |
| Sweden | 9,088,728 | 25,000 | 2,809 | 318 | 387 |
| Switzerland | 7,639,961 | 134,886 | 1,148 | 87 | 0 |
| India | 1,189,172,906 | 1,325,000 | 75,191 | 2,462 | 175 |
| Nepal | 29,391,883 | 105,500 | 1,865 | 40 | 0 |
| | | | | | |
| India and Neutrals | 1,511,454,436 | 1,933,686 | 89,457 | 3,069 | 634 |
---