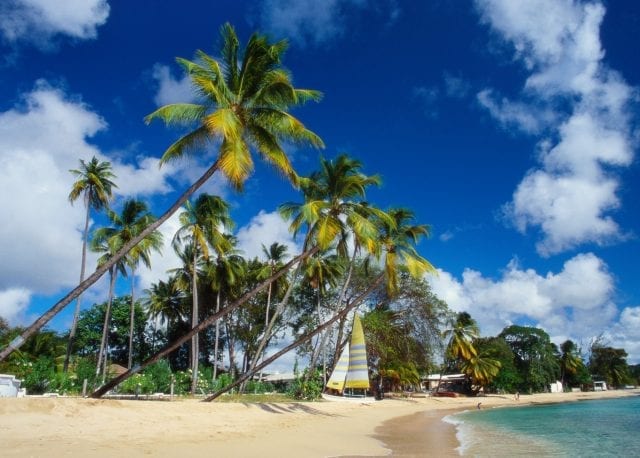 Formentera is the smallest of the 4 Balearic Islands, but the saying: "The best things come in small packages" is certainly a valid one in this case. It really is a gem of an island.
Towards the end of this piece, we will suggest one excursion that will give you a different perspective on those harder to get to places around the island's stunning coastline and beyond. This is regardless of where your chosen Formentera base is.
But, let's first take a look first at a selection of beaches that are more than worthy of a visit for those in search of a relaxation paradise with beaches that match those of the Caribbean:

Video source: ibiza-spotlight.com
Which beaches to choose from?
There are certainly a sufficient amount of activities and places to visit on Formentera, but something all those who visit will genuinely appreciate are the beautiful beaches.
Here's a brief overview on 3 of the most popular as well as 2 smaller, quieter and more secluded areas that are worthy of exploration: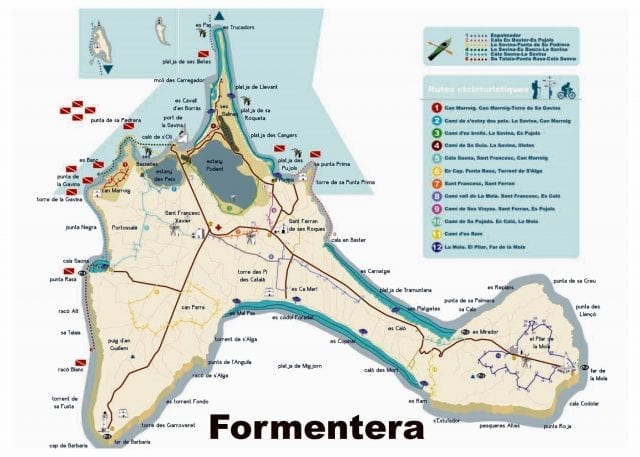 Playa Migjorn:
Located on the islands south coast the glistening white sands of Playa Migjorn stretch for almost 5km (3 miles) making it easily the longest beach on the island.
This long, half-moon stretch of beach is home to many enchanting small coves and golden stretches of sand. While it is popular with tourists, a stroll along the length of its shore with the occasional stop for refreshment at one of the many traditional, rustic beach bars (known as Chiringuitos,) or a rest at one of the chilled-out beach clubs is a perfect way to spend your day, have a dip in the inviting Mediterranean and catch a few rays!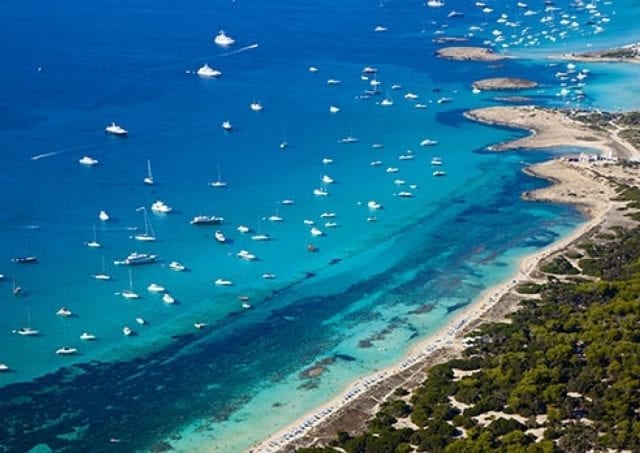 Those into snorkeling should take their gear (plus a pair of water shoes) and head for the north-western end of the beach. The seabed here is rocky and offers some excellent underwater viewing.
The relaxed, cosmopolitan atmosphere that Playa Migjorn offers encourages many visitors to get back to nature, so don't be surprised to see others relaxing and bathing nude.
Cala Saona:
Regarding size, Cala Saona is completely the opposite to Playa Migjorn, but its beauty more than makes up for this. It is where you should head for peace, quiet and complete relaxation. While sunbathing, swimming or snorkeling you will have fantastic views of Ibiza.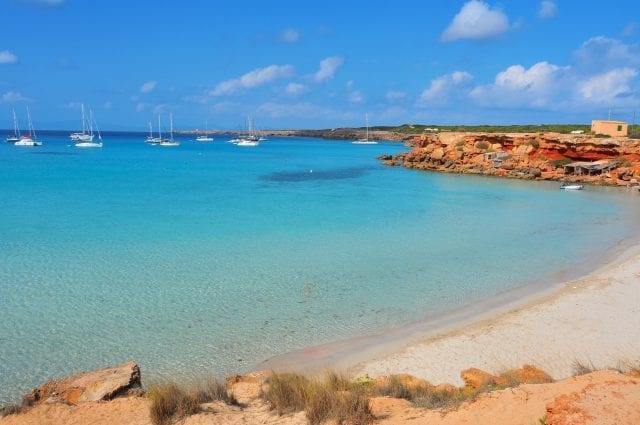 Two top tips for those visiting Cala Saona:
Private bathing: Those looking for private bathing should seek out one of the small rocky inlets that stud the cove.
Stunning sunsets: Anyone in search of a stunning sunset should linger a little longer on Cala Saona. Due to its westerly position, it is an excellent place to witness one of the islands magical sunsets.
Playa Illetes:
It would be completely remiss of us not to mention a beach that has been voted as the 6th best beach in the world and the No. 1 in Europe!
Located to the north of the island, stepping onto Playa Illetes will transport you into a Caribbean idyll.
It is around 1km in length and 50 meters wide with extensive sand dunes rising behind the soft white sand that seamlessly slopes into the crystal-clear, turquoise sea.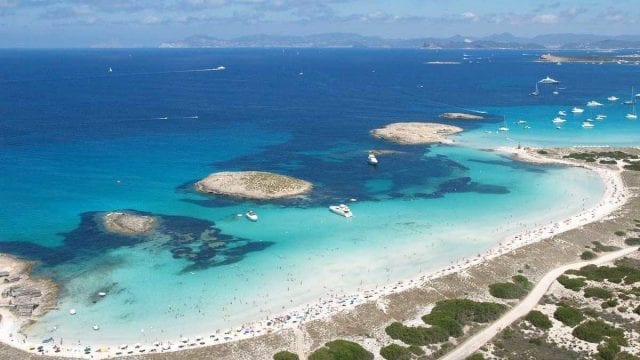 Illetes means islets, and a series of these are to be found as you meander along this unbelievable stretch of paradise. The main beach area can get very crowded so those in search of quieter spots should head towards the designated nudist area which is far wilder and free of sunbeds.
In terms of sustenance there are some top-notch restaurants on the beach and nestled in the dunes, but beware, prices are not low!
All-in-all, no visit to Formentera would be complete without a visit to the stunning Playa Illetes.
Two quieter places to bathe and relax:
Those looking to avoid the more crowded beaches will benefit from a trip to:
Es Calo:
This small fishing village nestles at the foot of a steep hill leading up to La Mola. Reaching the coast here will reward you with the discovery of a selection of small inlets.
These are truly worthy of a stop, exploration and swim in fantastic turquoise waters that will astound. The sight of an amazing shade of blue is due to an area of deep water that has mineral rock reflecting the light.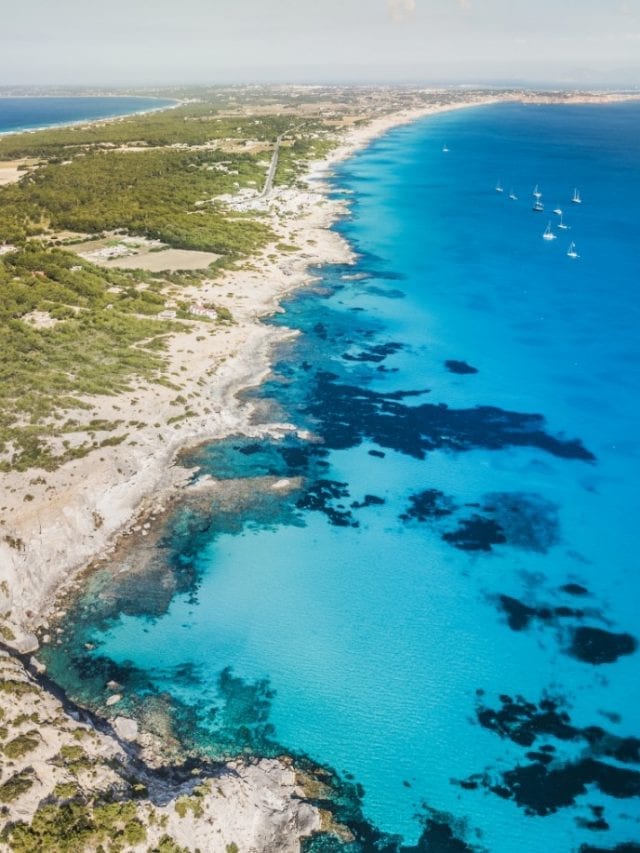 Those looking for some excellent snorkeling will find it around the pretty pier which is surrounded by Fishermen's huts.
Complete your wonderful day in and around the water with a visit to one of the excellent restaurants Es Calo has to offer. To add to your gourmet delight, seek out a restaurant with a terrace offering picture-postcard views. It will be difficult to drag yourself away!
El Tiburon:
Although its location between Playa Illetes and La Savina beaches may give the impression of a busy stretch of beach, this is not the case. El Tiburon remains peaceful and quiet even during high season.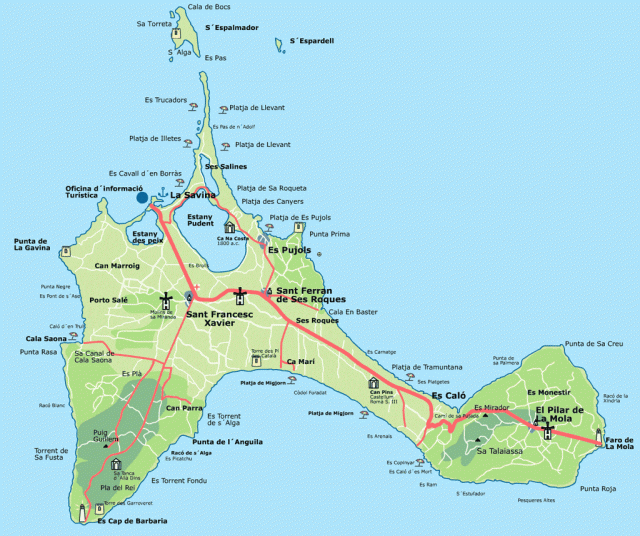 Your journey here will be rewarded with pristine, turquoise colored water and soft white sand. Those in need of shade will find relief under the calming pine trees that surround the beach.
A stroll along the boardwalk to the beach will also afford you excellent views of Ibiza and Es Vedra.
While here, you will spot luxury yachts laying anchor and ferrying their clientele to the exclusive El Tiburon restaurant, and this is where our suggestion for a superlative excursion comes!
Hire a luxury yacht for the day:
While all of the beaches and coves mentioned above (and many more!) can be reached inland from your accommodation on Formentera, there are lots of others which are more difficult to reach.
Add to this the proximity of Ibiza with countless hidden coves and the idea of exploring this part of the Balearics while aboard a luxury yacht has to be viewed as an extremely appealing one.
By doing so, you will be pampered from the very beginning to the astonishing end of your day. And in case you need a boat yacht charter at least, finding it is not a problem. Explore the area as it should be explored.
An unforgettable, truly memorable day:
You and your party will relax in complete luxury both above and below deck, avail of the luxury sea toys the yacht includes as part of the price, be ferried safely from yacht to your own 'secret' cove by the super-smooth tender and avail of catering on board to suit your party's needs.
These sleek, superb vessels can hold 11 guests and the decision to hire one for the day will be an unforgettable experience for all of those involved.
It really will turn an unforgettable stay on Formentera into a truly memorable one.