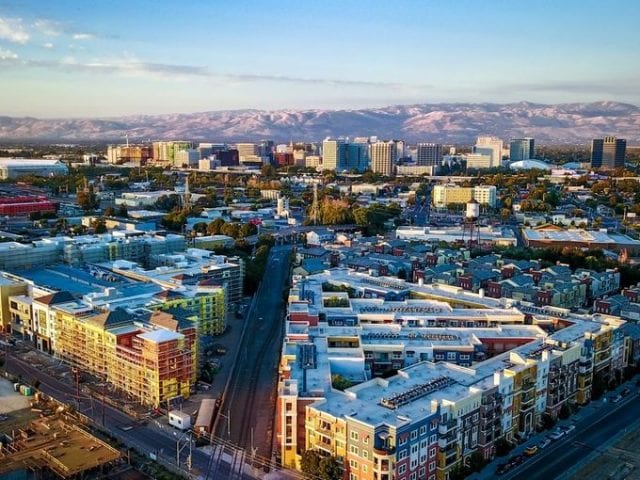 November 20, 2013. When Americans tune in to watch the annual Macy's Thanksgiving Day Parade, they may want to remember that the trendy retailer clocked in as the 8th lowest paying corporation in the entire country. And based on most of the companies' financial positions, it's not for lack of money. Shareholders and executives continue to enjoy ever-rising profits.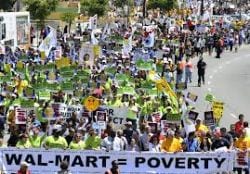 Not surprisingly, Wal-Mart ranked the #1 lowest paying company in America. List courtesy of Yahoo Finance. Image courtesy of KQED News.
In the debate over raising the minimum wage, pundits like to paint the issue with a broad brush. But it's worth remembering that there are two types of businesses and industries when it comes to the issue of raising the minimum wage – those that compete with foreign manufacturers and those that don't.
In other words, if McDonalds is forced to pay their workers more, so are all their competitors. Nobody is going to drive to Canada or Mexico for a hamburger and nobody is going to be laid off from their job over it. The companies will simply have to enjoy $3.3 billion in profits each quarter or year instead of $3.4 billion. Or, as we always hear Republicans and CEO's threaten, the companies will lay people off, sacrificing quality and safety, just so the greedy billionaires can keep that extra little bit of profit.
Corporations like General Electric, Kraft, Pepsi, Caterpillar and anyone else who directly competes with foreign slave labor and near slave labor, could be affected by a raise in the minimum wage. But again, only if their wealthy shareholders refuse to take a hit to their record-high profits. Those record profits have lead the stock market to hit record highs repeatedly, up to and including this week.
Do the math
By all means, if our math is wrong, email us and let us know. But since our TV sets and elected officials will never give us the real numbers, we're going to crunch them ourselves. And we're going to use the #10 worst paying company in America, as per the below list from Yahoo News, as our example. That would be Starbucks, but the formula for raising the minimum wage works for any company.
Starbucks has roughly 13,000 shops. If they have 4 employees working at any given moment, that comes to 52,000 working employees every hour. If Starbucks is open 16 hours per day, that comes to 832,000 payable hours per day for all employees combined. Multiply that by the 365 days in the year and the total payable hours Starbucks pays its employees for the whole year is 303,680,000.
What that translates to is that for every $1 the minimum wage is raised, it will cost Starbucks $303.6 million dollars per year. According to the list below, the corporation had $13.3 billion in sales, of which, $1.4 billion was pure profit. So if the minimum wage were raised $1, Starbucks' profits next year would go from $1.4 billion to $1.1 billion. And that's only if the company absorbed 100% of the hit and didn't raise prices or cut benefits to make everyone else pay for it.
As readers can see, a $1 raise in the minimum wage wouldn't hurt Starbucks much at all. But a 3, 4, or 5 dollar hike could completely wipe out the company's profits and even put them in debt. Even worse, for struggling companies like Sears (#6 below), even a $1 hike could put them out of business. And with hundreds of thousands of the richest and most powerful people in the world making up the stockholders and owners of these corporations, they're going to put up one mighty strong fight to stop it.
Top 10 worst paying companies in America
With the math experiment out of the way, it's time to bring you the list of the ten worst paying companies in the US (from Yahoo Finance):
#10 – Starbucks
US workers: 120,000
CEO pay: $28.9 million
Annual profit: $1.4 billion
#9 – TJX Companies
US workers: 138,211 (estimated)
CEO pay: $21.8 million
Annual profit: $1.9 billion
#8 – Macy's
US workers: 175,700
CEO pay: $13.8 million
Annual profit: $1.3 billion
#7 – Darden Restaurants
US workers: 203,389 (estimated)
CEO pay: $6.4 million
Annual profit: $412 million
#6 – Sears Holdings
US workers: 246,000
CEO pay: $1.3 million
Annual profit: Loss of $930 million
#5 – Yum! Brands
US workers: 694,712 (estimated)
CEO pay: $14.2 million
Annual profit: $1.6 billion
#4 – Kroger
US workers: 343,000
CEO pay: $11.1 million
Annual profit: $1.5 billion
#3 – Target
US workers: 361,000
CEO pay: $20.6 million
Annual profit: $3 billion
#2 – McDonald's
US workers: 739,055 (estimated)
CEO pay: $13.8 million
Annual profit: $5.5 billion
#1 – Walmart
US workers: 1,400,000 (estimated)
CEO pay: $20.7 million
Annual profit: $17 billion
Above list compliments of Yahoo Finance.
Recent Whiteout Press articles:
Homebuilders secretly keep Ownership of your Property
The Face of America's new Homeless
New Street lights record Conversations and Video
Election Results bring Wins for Greens and Libertarians