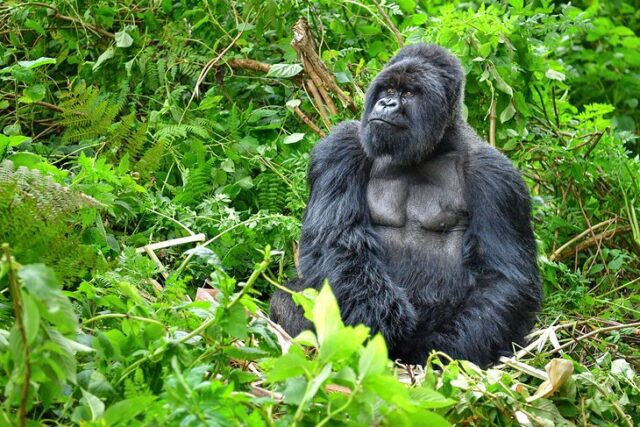 Volcanoes National Park in Rwanda is an amazing and unique destination for tourists. Located in the northwestern region of the country, it offers visitors an incredible array of attractions to explore.
From stunning volcanic vistas to lush forests filled with wildlife, this park has something special for everyone who visits.
Visitors can also enjoy a range of activities while they are there such as trekking through the mountain terrain, bird watching, or learning about local culture and customs.
With its diverse environment and captivating scenery, Volcanoes Park Rwanda is sure to be a highlight on any traveler's list when visiting Rwanda.
Hiking the Crater Lake Trail
Hiking the Crater Lake Trail at Volcanoes National Park in Rwanda is a must-see attraction for any nature lover. The trail takes you to an extinct volcano and its beautiful crater lake, giving hikers breathtaking views of the surrounding landscape.
Along the way, visitors can marvel at lush rainforests filled with exotic flora and fauna, smell fragrant flowers blooming amidst wild grasses, and take in spectacular sunsets over the majestic volcanoes.
It's a unique opportunity to get close to nature while taking in some of Rwanda's most stunning sights.
With its diverse terrain ranging from rugged mountainsides to tranquil valleys, this trail offers something for everyone – whether it's an adventurous exploration or a peaceful stroll through natural beauty.
Visiting the Gorilla Trekking Sites
Visiting the Gorilla Trekking Sites of Volcanoes National Park in Rwanda is a must-do experience for any traveler.
The park is home to some of the world's last remaining mountain gorillas, and visitors will have an unforgettable opportunity to see them up close in their natural habitat.
A trek through the lush tropical forests and bamboo groves of the park offers sightings of primates such as golden monkeys, black-and-white colobus monkeys, and baboons.
The guides are experienced professionals who provide detailed information about each species along with safety instructions before setting off on your journey.
Along with being able to observe these remarkable creatures from a distance, you also may get lucky enough to sit amongst them while they eat or play!
For those looking for a unique adventure off the beaten path, gorilla trekking sites at Volcanoes National Park should be top of your list when visiting Rwanda.
Exploring Karisimbi Volcano
Karisimbi Volcano is one of the most majestic sights in Volcanoes National Park, Rwanda. Standing at a towering 4,507 meters above sea level, Karisimbi Volcano is an impressive sight that few will forget.
Visitors to the park can explore the volcanic slopes and enjoy stunning views from its summit. While trekking up Karisimbi you'll get to observe small villages tucked away on its lower slopes and marvel at its rugged beauty.
On clear days, you'll be able to spot Nyiragongo Volcano in the neighboring Democratic Republic of Congo from its peak!
The landscapes surrounding Karisimbi are truly breathtaking; vast fields of lush vegetation give way to rocky terrain as you make your ascent up this powerful mountain.
There's no better place than the top of Karisimbi for taking incredible photos and marveling at how nature has sculpted this incredible landscape over time – it's sure to take your breath away!
Seeing Giant Lobelia Plants at Mount Bisoke
One of the most spectacular sights in Volcanoes National Park is Mount Bisoke. Located on the Rwandan-Congolese border, this extinct volcano is home to many fascinating attractions.
One of these is a breathtaking view from its summit, but even more impressive are the giant lobelia plants that cling to its slopes.
These ancient and rare species grow up to 3 meters tall, making them an incredible sight for visitors who make the climb up Mt Bisoke.
Those brave enough can take a guided tour up to see them in all their majestic glory, while those not so inclined can still get an amazing perspective from afar as they traverse the park's lush landscape. Either way, you're sure to be impressed by this natural wonder!