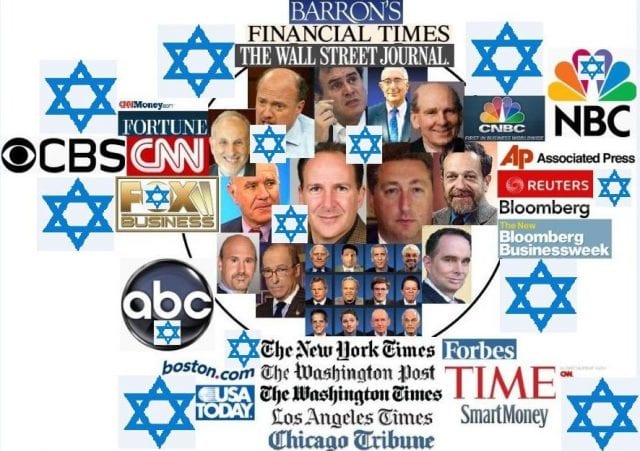 That used to be considered a crazy question only asked by bigots, anti-Semites and conspiracy theorists. However, one celebrity after another has fallen victim for simply admitting that the long-held notion is actually true. Beginning with Walt Disney, Henry Ford and Charles Limdbergh, the accusations have been leveled by Jews and non-Jews alike. Some Hollywood insiders who've been black-listed at one time or another for publically suggesting the television and movie industry is controlled by a cult-like Zionist underground network include; Oliver Stone, Arnold Schwarzenegger, Marlon Brando, Mel Gibson, Charlie Sheen, CNN's Rick Sanchez, a chief National Public Radio executive and even the LA Times' Joel Stein.
In fact, in his column in the LA Times (Dec. 19, 2008), Stein says that Americans who think the Jews do not control Hollywood and the media are just plain "dumb". "Jews totally run Hollywood" Stein proudly admits. He then goes on to provide a long, long list of Hollywood and media chiefs to prove his point. All of them – Jews. They include:
Fox News President Peter Chernin
Paramount Pictures Chairman Brad Grey
Walt Disney CEO Robert Igor
Sony Pictures Chairman Michael Lynton
Warner Brothers Chairman Barry Meyer
NBC Universal CEO Jeff Zucker.
Even the head of the Actors' Union, the Screen Actors Guild, Alan Rosenberg, is a Jew.
"The Jews are so dominant" writes Stein, "I had to scour the trades to come up with six Gentiles in high positions at entertainment companies. But lo and behold" Stein says, "even one of that six, AMC President Charles Collier, turned out to be a Jew! As a proud Jew" says Joel Stein, "I want America to know of our accomplishment. Yes, we control Hollywood."
In 1998, National Vanguard Books began publishing and distributing the following essay regarding Jewish control over America's airwaves and news sources.
From National Vanguard Books
There is no greater power in the world today than that wielded by the manipulators of public opinion in America. No king or Pope of old, no conquering general or high priest ever disposed of a power even remotely approaching that of the few dozen men who control America's mass news and entertainment media.
There power is not distant and impersonal; it reaches into every home in America, and it works its will during nearly every waking hour. It is the power which shapes and molds the mind of virtually every citizen, young and old, rich or poor, simple or sophisticated.
The mass media form for us our image of the world and then tell us what to think about that image. Essentially, everything we know – or think we know – about events outside our own neighborhood or circle of acquaintances comes to us via our daily newspaper, our weekly news magazine, our radio or our television.
It is not just the heavy-handed suppression of certain news stories from our newspapers or the blatant propagandizing of history-distorting TV 'docudramas' which characterizes the opinion-manipulating techniques of the media masters. They exercise both subtlety and thoroughness in their management of both the news and the entertainment which they present to us.
For example, the way in which the news is covered, which items are emphasized and which are played down, the reporter's choice of words, tone of voice and facial expressions; the wording of headlines; the choice of illustrations – all of these things subliminally and yet profoundly affect the way in which we interpret what we see or hear.
On top of this of course, the columnists and editors remove any remaining doubt from our minds as to just what we are to think about it all. Employing carefully developed psychological techniques, they guide our thought and opinion so that we can be in tune with the 'in crowd', the 'beautiful people', the 'smart money'. They let us know exactly what our attitudes should be toward various types of people and behavior by placing those people or that behavior in the context of a TV drama or situation comedy and having the other TV characters react to them in the politically correct way.
The average American, of whose daily life TV-watching takes such an unhealthy portion, distinguishes between these fictional situations and reality only with difficulty, if at all. He responds to the televised actions, statements, and attitudes of TV actors much as he does to his own peers in real life. For all too many Americans, the real world has been replaced by the false reality of the TV environment, and it is to this false reality that his urge to conform responds. Thus, when a TV scriptwriter expresses approval of some ideas and actions through the TV characters for whom he is writing, and disapproval of others, he exerts a powerful pressure on millions of viewers toward conformity with his own views.
Because there are differences in degree, however, most Americans fail to realize that they are being manipulated. The control of the opinion-molding media is nearly monolithic. All of the controlled media – television, radio, newspapers, magazines, books, motion pictures – speak with a single voice, each reinforcing the other. Despite the appearance of variety, there is no real dissent, no alternative source of facts or ideas accessible to the great mass of people which might allow them to form opinions at odds with those of the media masters. They are presented with a single view of the world – and the pressure to conform to that view is overwhelming. People adapt their opinions to it, vote in accord with it and shape their lives to fit it.
Continuing government deregulation of the telecommunications industry has resulted, not in the touted increased competition, but rather in an accelerating wave of corporate mergers and acquisitions that have produced a handful of multi-billion dollar media conglomerates. Regardless of what you're watching or reading, it is very likely that the information or entertainment was produced and distributed by one of these mega-media companies.
The largest media conglomerate today in 1998 with revenues of $23 billion is the Walt Disney Company. Its chairman and CEO, Michael Eisner, is a Jew. Disney's cable networks include more than 100 million subscribers. As for feature films, Walt Disney Picture Group, headed by Joe Roth (also a Jew), includes Touchstone Pictures, Hollywood Pictures and Caravan Pictures. Disney also owns Miramax Films, run by the Weinstein brothers, also Jewish.
In 1995, Eisner and Disney acquired Capital Cities/ABC, Inc, which owns the ABC Television Network, which in turn owns ten TV stations outright in such big markets as New York, Chicago, Philadelphia, Los Angeles, San Francisco and Houston. In addition, it has 225 affiliated stations in the United States and is part owner of several European TV companies.
ABC's cable subsidiary, ESPN, is headed by president and CEO Steven Bornstein, who is a Jew. The corporation also has a controlling share of Lifetime Television and the A & E Network. ABC Radio Network owns 26 radio stations, again in major cities such as New York, Washington and Los Angeles. Together it has over 3,400 affiliates. Although primarily a telecommunications company, Capital Cities/ABC earned over $1 billion publishing in 1997. It owns seven daily newspapers and the Diversified Publishing Group.
Time Warner, Inc., with 1997 revenues of more than $13 billion, is the second of the international media leviathans. Time Warner leapfrogged over Walt Disney to first place among media giants when it acquired Turner Broadcasting System in 1996. It slipped back to second place however in 1997. The chairman of the board and CEO of Time Warner, Gerald M. Levin, is Jewish. Time Warner's subsidiary HBO is the country's largest pay-TV network.
In addition to cable and music, Time Warner is heavily involved in the production of feature films – Warner Brothers Studio, Castle Rock Entertainment and New Line Cinema. Time Warner's publishing division led by editor-in-chief Norman Pearlstine, a Jew, is the largest magazine publisher in the country publishing Time, Sports Illustrated, People and Fortune magazines.
Number three on the list, with 1997 revenues of just over $13 billion, is Viacom, Inc., headed by Sumner Redstone (born Murray Rothstein, also Jewish). Viacom, which produces and distributes TV programs for the three largest networks, owns 13 television stations and 12 radio stations. It produces feature films through Paramount Pictures, headed by Jewish Sherry Lansing.
Its publishing division includes Simon & Schuster, Scribner, The Free Press and Pocket Books. It distributes videos through over 4,000 Blockbuster stores. It is also involved in satellite broadcasting, theme parks and video games.
Viacom's chief claim to fame, however, is as the world's larges provider of cable programming through its Showtime, MTV, Nickelodeon and other networks. Since 1989, MTV and Nickelodeon have acquired larger and larger shares of the juvenile television audience. Redstone, who owns 76 percent of the shares of Viacom, until recently offered Beavis and Butthead as teen role models. MTV pumps its anti-social, violent, alcohol abusive, drug abusive, sexual-assaulting television content into the homes of over 210 million teenagers in 71 countries, mostly in the US.
The new star on the megamedia block is Edgar Bronfman, Jr., president and CEO of Seagram Company, Ltd., the liquor giant. His father, Edgar Bronfman, Sr., is president of the World Jewish Congress. Seagram owns two large production companies, MCA and Universal Pictures (now merged under the name Universal Studios).
Bronfman became the biggest man in the record business in May 1998 when he also acquired control of PolyGram Records by paying $10.6 billion to the Dutch electronics manufacturer Philips. With the revenue from PolyGram added to that from MCA and Universal, Bronfman will have the fourth largest media empire, with revenues around $12 billion annually.
With the top four media conglomerates in the hands of Jews, it is difficult to believe that such an overwhelming degree of control came about without a deliberate, concerted effort on their part.
Rupert Murdoch's NewsCorp, which owns Fox Television Network, 20th Century Fox Films and Fox News, is the fifth largest megamedia corporation in the country with 1997 revenues of over $11 billion. Murdoch is a Gentile, but Peter Chernin, who is president and CEO of Fox Group, which includes all of NewsCorp's film, television and publishing operations in the US, is a Jew. Under Chernin, as chairman of Fox, is Laura Ziskin, a Jew. Peter Roth (also Jewish) works under Chernin as president of Fox Entertainment. NewsCorp also owns the New York Post and TV Guide, which are both published under Chernin's supervision.
Most of the smaller, independent television and movie production companies that are not owned by the largest corporations are also controlled by Jews. For example, New World Entertainment is owned by Ronald Perelman, A Jew who also owns Revlon cosmetics and offered a job to Monica Lewinsky as a favor for friend Bill Clinton, then President.
The best known of the smaller media companies, DreamWorks SKG, is a strictly Jewish affair. DreamWorks was formed in 1994 amid great media hype by recording industry mogul David Geffen, former Disney Pictures chairman Jeffrey Katzenberg and film director Steven Spielberg, all three of whom are Jews.
Films produced by just the four largest motion picture companies mentioned above – Disney, Warner Brothers, Paramount and Universal – accounted for two-thirds of the total box office receipts for the entire movie industry in 1997.
The big three in television broadcasting used to be ABC, CBS and NBC. With the consolidation of the media empires, these three are no longer independent entities. Each has been controlled by a Jew since its inception: ABC by Leonard Goldenson, CBS first by William Paley and then by Laurence Tisch, and NBC first by David Sarnoff and then by his son Robert. Over the period of several decades, these networks were staffed from top to bottom with Jews.
For example, the executive producers of all three of the main network news programs are Jewish. The executive producer of ABC's World News Tonight with Peter Jennings is Paul Friedman. The executive producer of NBC Nightly News with Tom Brokaw is Neal Shapiro. The executive producer of CBS Evening News with Dan Rather is Al Oritz. CBS This Morning News has Al Berman as executive producer. While CNN is produced by Rick Kaplan – all Jews.
After television news, daily newspapers are the most influential information medium in America. Sixty million papers are sold each day. These millions are divided among some 1,500 different publications. One might conclude that the sheer number of different newspapers across America would provide a safeguard against minority control and distortion. Alas, such is not the case.
The days when most cities and towns had several independently owned newspapers published by local people with close ties to the community are gone. Today, most 'local' newspapers are owned by a rather small number of large companies controlled by executives who live and work hundreds of miles away. The fact is, only about 25 percent of the country's 1,500 papers are independently owned. The rest belong to the giant chains.
Many towns and cities have only one newspaper. And even when there are two, there is no competition or difference of opinion or spin. Very often, the competing morning and afternoon papers, complete with different names and staff, are actually under the same ownership. Examples of this are the Huntsville morning News and afternoon Times, the Birmingham morning Post Herald and afternoon News, the Mobile morning Register and afternoon Press, the Springfield morning Union and afternoon News plus their Sunday-only Republcian, the Syracuse morning Post Standard and afternoon Herald Journal – all owned by the Jewish Newhouse brothers through their holding company Advance Publications.
The Newhouses own 26 daily newspapers, including several large editions in Cleveland, Newark and New Orleans. The Newhouse empire also includes 12 television broadcasting stations and 87 cable TV systems including some of the nation's larges cable operators. They also own the Sunday supplement Parade, with a circulation o more than 22 million per week. The Jewish Newhouse family also owns some two dozen major magazines including Vogue, New Yorker, Mademoiselle, Glamour, Vanity Fair, Bride's, Gentlemen's Quarterly, Self, House and Garden and all the other magazines of the wholly owned Conde Nast group.
This Jewish media empire is the perfect example of how the news media industry became dominated by Jews. The founder, Samuel Newhouse, a Jewish immigrant from Russia, died at age 84 in 1979. Before he did however, he discovered that newspapers aren't supported by their readers or subscribers. Instead, they're financed by advertisers. It's the advertising revenue, not the small sale price collected from each reader, that funds a newspaper.
Newhouse knew that whenever the large advertisers in a city choose to favor one newspaper over another with their business, the favored newspaper will flourish while its competitor dies. Since the beginning of the twentieth century, Jews have taken over a number of key industries including television, movies, banking, credit and government. With those being the largest paying advertisers in any major city, all the Jews had to do was funnel their corporate or government advertising dollars to only the Jewish Newspapers. Before long, most of their competing Gentile newspapers were forced out of business, or forced to sell for pennies on the dollar – and to whom? The same Jews that suffocated their businesses in the first place.
News Magazines are pretty much controlled by Jews just as their newspaper counterparts, including the three largest news magazines in America. Time magazine, with a weekly circulation of 4.1 million, is published by a subsidiary of Time Warner Communications, the media conglomerate formed by the 1989 merger or Time, Inc, with Warner Communications. The CEO of Time Warner Communications, as mentioned above, is Gerald Levin, a Jew.
Newsweek, is published by the Washington Post Company under the Jewish Katherine Meyer Graham. Its weekly circulation is 3.2 million. US News & World Report, with a weekly circulation of 2.3 million, is owned and published by the Jewish Mortimer B. Zuckerman, who also has taken the position of editor-in-chief of the magazine. Zuckerman also owns the Atlantic Monthly and New York's Daily News, the sixth largest paper in the country.
Jewish media control determines the foreign policy of the United States and permits Jewish interests rather than American interests to decide questions of war and peace. By permitting the Jews to control our news and entertainment, we are doing more than merely giving them a decisive influence on our political system and virtual control of our government. Worst of all, we also are giving them control of the minds and souls of our children, whose attitudes and ideas are shaped more by Jewish television and Jewish films than by parents, schools or any other influence.
*Media owners, executives and corporate relationships change from time to time. All of the names and other data in this report have been checked carefully and are accurate as of November 1989.
The above was produced and distributed by National Vanguard Books during the late 1990's.
Naming Names

– the Whiteout Press 4-part series
Naming Names – Obama Contributors and the Stimulus Scandal
Naming Names – The Vast Left-Wing Conspiracy
Naming Names – Corporations, Unions, PAC's and the Party they Finance
Naming Names – Congressmen Guilty of Insider Trading